GENESIS PURCHASES MAXIMUS FITNESS & WOOD VALLEY
Wednesday, July 16 2014 1:22 PM
(TOPEKA, KS) – Genesis Health Clubs has purchased all three Maximus Fitness & Wellness clubs located at 2020 NW Topeka Blvd #200, 2061 SE 29th St., and 2909 SW 37th St in Topeka, Kansas. Genesis now brings it's club count to 18 locations and includes facilities in Wichita (5), Hutchinson, Salina, Emporia, Lawrence (2), Leavenworth and McPherson, Kansas, one club in St. Joseph, MO and most recently two locations in Springfield, MO. With 29 years of experience and great expertise in the health and fitness industry, they are looking forward to bringing their passion for health and fitness and excellence in customer services to Topeka.
For several years, Rodney Steven II, Owner of Genesis Health Clubs, has been working with the owners of Maximus on the sale of all three Topeka locations. Genesis also purchased Maximus locations in Lawrence and Leavenworth, Kansas in 2011.
"I've been anticipating moving into the Topeka market for a long time, and excited to bring the Genesis brand to the community. I am proud to announce that the sale is official, and the high quality of service and programs that have been a part of Maximus will continue and will thrive to a new level." said Steven.
Remodel plans/drawings are in the works for all locations. Genesis is known for their luxurious locker rooms, spacious weight rooms and cardio areas as well as specialized amenities and beautiful finishings in their clubs. They plan on bringing those same features
to the Topeka locations.
"I look forward to providing beautiful health clubs to the city of Topeka. I am fully committed to maintaining safe, clean, state-of-the-art facilities and hope to create the same great atmosphere here as we have at our other Genesis locations. As well as a friendly and professional staff that puts customer service at the top of their priority list." Steven also stated.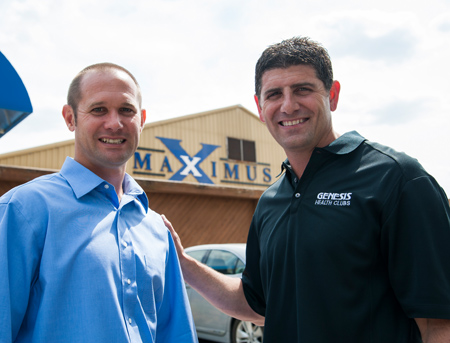 Photo credit: http://cjonline.com/
Previous: GENESIS PURCHASES OZARK FITNESS CENTERS
Next: Genesis Foundation for Fitness & Tennis names new Executive Director.