Pilates
Whatever your fitness level, Pilates Reformer can transform your mind and body! Pilates Reformer is a mind-body intervention that focuses on strength, core stability, flexibility, muscle control, posture, and breathing. Once you build Pilates Reformer into your regular workout routine, you'll find yourself feeling stronger, healthier and less prone to injury. Genesis Health Clubs has top-of-the-line instructors who are ready to guide you on your Pilates journey. What are you waiting for?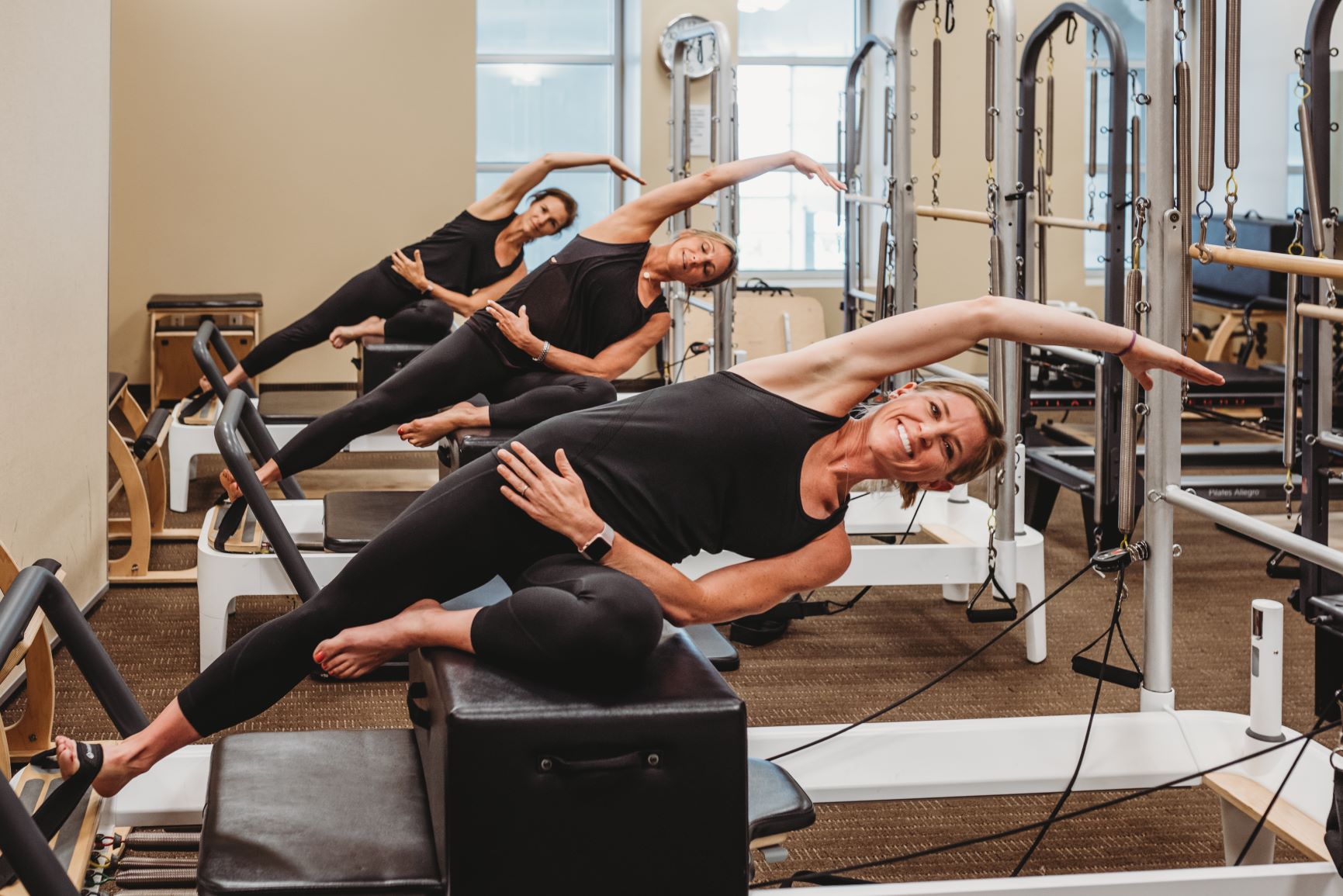 The Pilates Studio
Private & Semi-Private Training Options
PRIVATE PILATES TRAINING - is for the individual interested in learning the core fundamentals of Pilates exercise as well as challenging their level of fitness and learning the many variations performed on the mat and all available apparatus (Reformer, Cadillac, Chair and Barrels). Private Pilates training is designed to meet the needs and interests of the individual. The one on one environment allows the trainer to focus on the specific challenges of their client as well as help them to successfully reach their goals. Private Pilates is appropriate for those dealing with specific considerations such as spinal issues and back pain, post-rehab, fatigue, tight muscles and joints and more. Private training is ideal for those that want quicker results and want to feel physical improvements specific to their needs. It is also appropriate for the "very in shape," elite athlete with a desire to avoid or improve issues that are a result of muscle imbalances or improper body mechanics. Please contact us to schedule your complimentary Pilates Assessment and Pilates session. You will learn more about how Pilates will help you and the training options that will best meet your needs.
PILATES BENEFITS THE WHOLE BODY
When the WHOLE BODY is working together, and when we are strong on the INSIDE and when we train our BODY to move correctly we….
LOOK better
FEEL better
MOVE better
And have more ENERGY to better PERFORM the basic daily tasks of life as well as demanding exercises and activities.
PILATES IMPROVES QUALITY OF LIFE
The Pilates Group Reformer Program
INTRO TO GROUP REFORMER
Group of Four
Prerequisites: Injury free individual that has completed one complimentary Pilates assessment and one complementary Pilates private session. A minimum of six Intro to Reformer classes are required prior to joining the regular Group Reformer classes and if needed additional private sessions may berequired as well.
All new students begin here. The INTRO TO REFORMER program focuses on teaching the Pilates Movement Principles, how to breathe correctly, how to initiate muscle movement correctly, spinal posture as well as how to set up and use the reformer. Students will be
challenged in a beginner format while working the whole body with an emphasis on establishing your core connection and improved balanced muscle development.
BREATH | BALANCE | MUSCLE DEVELOPMENT
COST: 6 classes/$120
UNLIMITED GROUP REFORMER
Group of eight
Prerequisites: Injury free individual that has completed one Pilates assessment, one Pilates private session and six Intro to Reformer classes or 24 private sessions.
This program is for the experienced student which is very familiar with the Reformer and the basic exercises done on the Reformer as well as able to work independently on the Reformer. The UNLIMITED program takes students to the next level by increasing the number of exercises done in a class as well as the level and complexity of some exercises. Additional props and equipment is introduced in a circuit format along with the Jump Board which adds a cardiovascular component.
CENTER | CONCENTRATION | CONTROL
COST MONTHLY EFT: $159
INTRO TO REFORMER AND UNLIMITED GROUP REFORMER POLICIES
Members of this program must sign up in advance to reserve a spot in class. Drop-ins are allowed if space is available. Members sign up in the Pilates Studio and are able to sign up for classes one week in advance. Sign-up for classes according to the specific Reformer program you are registered for. Please refer to prerequisites.
CLASS CANCELLATION POLICY
It is appreciated that cancellations are made 48 hours in advance so that other members have the opportunity to sign-up in open spots.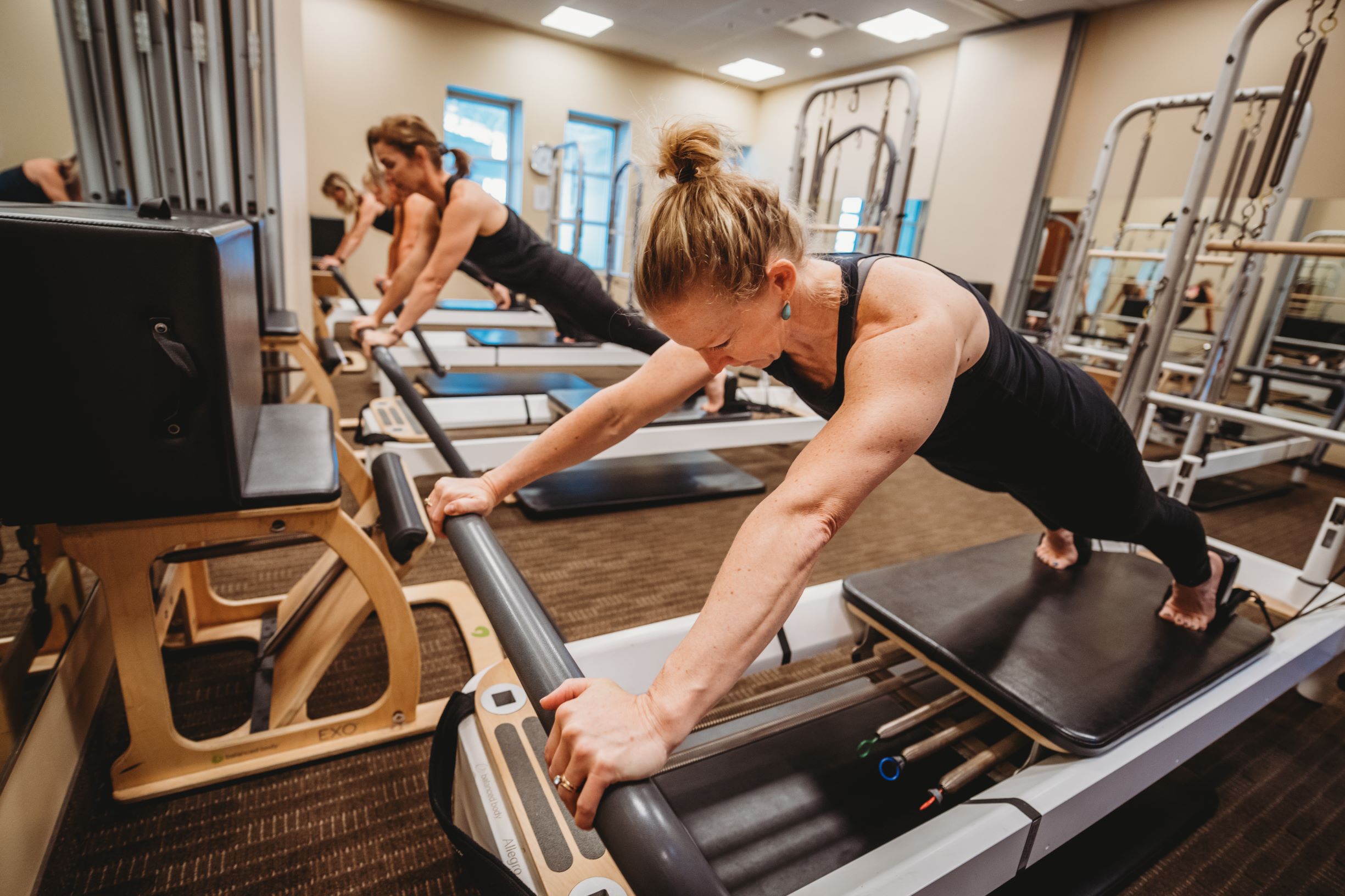 Class Times
Monday

Tuesday

Wednesday

Thursday

Friday

Saturday

9:00AM
Reformer

9:00AM
Reformer

10:15AM
Reformer/Jump Board

12:00PM
Reformer

12:00PM
Reformer/Jump Board

12:00PM
Reformer
PRIVATE GROUP REFORMER CLASSES
Schedule your day, time, and instructor as well as form your own group of friends, family or sport specific group. No sign-up required for these classes as you will have a standing appointment 1–3 times each week.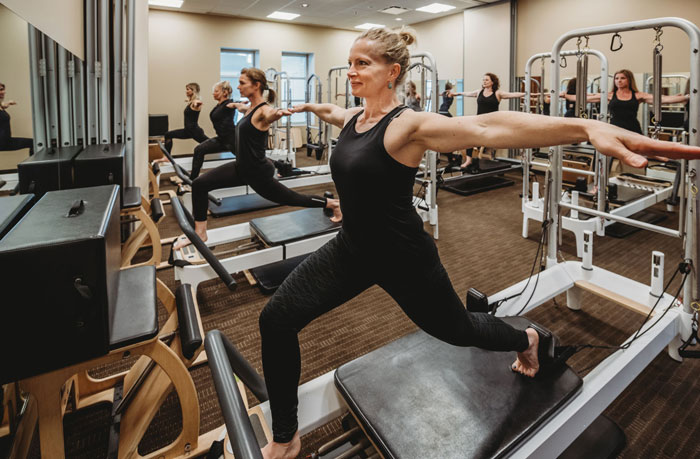 For more information, please contact Kelli Harsh, kharsh@GenesisHealthClubs.com or contact the Studio at 316-634-3120.
COST PIF (Paid In Full)
12 classes/$360 | 24 classes/$600
COST MONTHLY EFT
1 x wk $120 | 2 x wk $200 | 3 x wk $240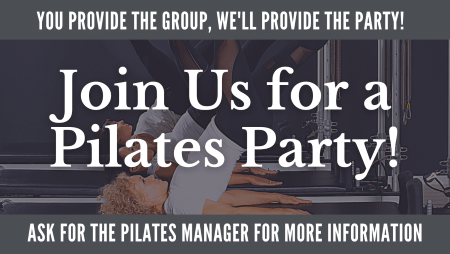 Let's meet at the Pilates Studio at Genesis Health Clubs for a PILATES PARTY!
Pilates Party
The Pilates Party is a fun way to share Pilates with your friends and family. The two-hour event includes a Pilates workout of your choice on the Reformer and a social to follow. You provide the group and we'll provide the Pilates Party!
A Few Party Ideas
Birthday
Bridal Event
Girls Night
Sister Bonding
Date Night
Office Group Intro to Pilates
Hors d' oeuvres
Veggie Tray
Fruit and Cheese Tray
Chip n Dip Snack Tray
Dessert Tray
Cake or Cookies
Drink Options
Wine
Champagne
Water and Tea
Soda
COST: Group of Four $180 | Group of Six $250
Contact the Pilates Studio to schedule your Pilates Party or email kharsh@genesishealthclubs.com to help find your location.