Mount Genesis Climbing Wall
Climb to New Heights at the Mount Genesis Rock Wall in Wichita!
Mount Genesis Rock Wall
Located in the lobby of the North Rock Road branch of Genesis Health Clubs, Mount Genesis provides a climbing wall for individuals of all levels to challenge themselves and have a great time in the process. Mount Genesis tops out at around 47 feet, making it one of the tallest indoor walls in the state of Kansas. Mount Genesis has something for everyone with the lowest day rates in Wichita to long-term membership options and an advanced fitness class that incorporates a boot camp style workout with rock climbing in Rock Hard Fitness. Challenge your body, mind, and imagination today!
Mount Genesis Schedule:
Mondays-Fridays: 4-8 pm
Saturdays-Sundays: 9-1 pm
Rock Hard Fitness
Try Rock Hard Fitness new at Genesis Rock Road. An exhilarating circuit training class focused on helping you reach your health and fitness goals for the new year. A mixture of strength and endurance will keep your heart pumping the whole time. And if that doesn't do, the 4' rock wall is incorporated in every class! Can you make it to the top? Come find out! See you on the wall!
Rock Hard Fitness Schedule:
Monday and Wednesday: 6 pm
Tuesday and Thursday: 7 pm
Saturday: 11 am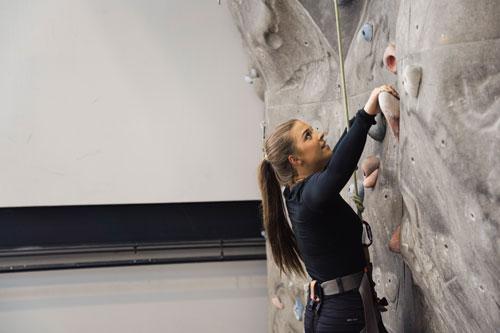 Private Climbing Lessons:
Want to work one-on-one with an experienced climbing instructor? Then a private lesson is for you! Tailored to your skill level and focused on your needs, this is the ideal way for climbers to learn techniques from simple to advance. It is an affordable way for a family or group to learn to climb together.
Rock Wall Birthday Parties at Genesis:
Host the most epic birthday party at the Genesis Rock Road rock wall. Challenge your friends to climb the highest, enjoy