Pilates at Fort Collins Club
Whatever your fitness level, Pilates can transform your mind and body! Pilates is a mind-body intervention that focuses on strength, core stability, flexibility, muscle control, posture, and breathing. Once you build Pilates into your regular workout routine, you'll find yourself feeling stronger, healthier and less prone to injury. Genesis Health Clubs has top-of-the-line instructors who are ready to guide you on your Pilates journey. What are you waiting for?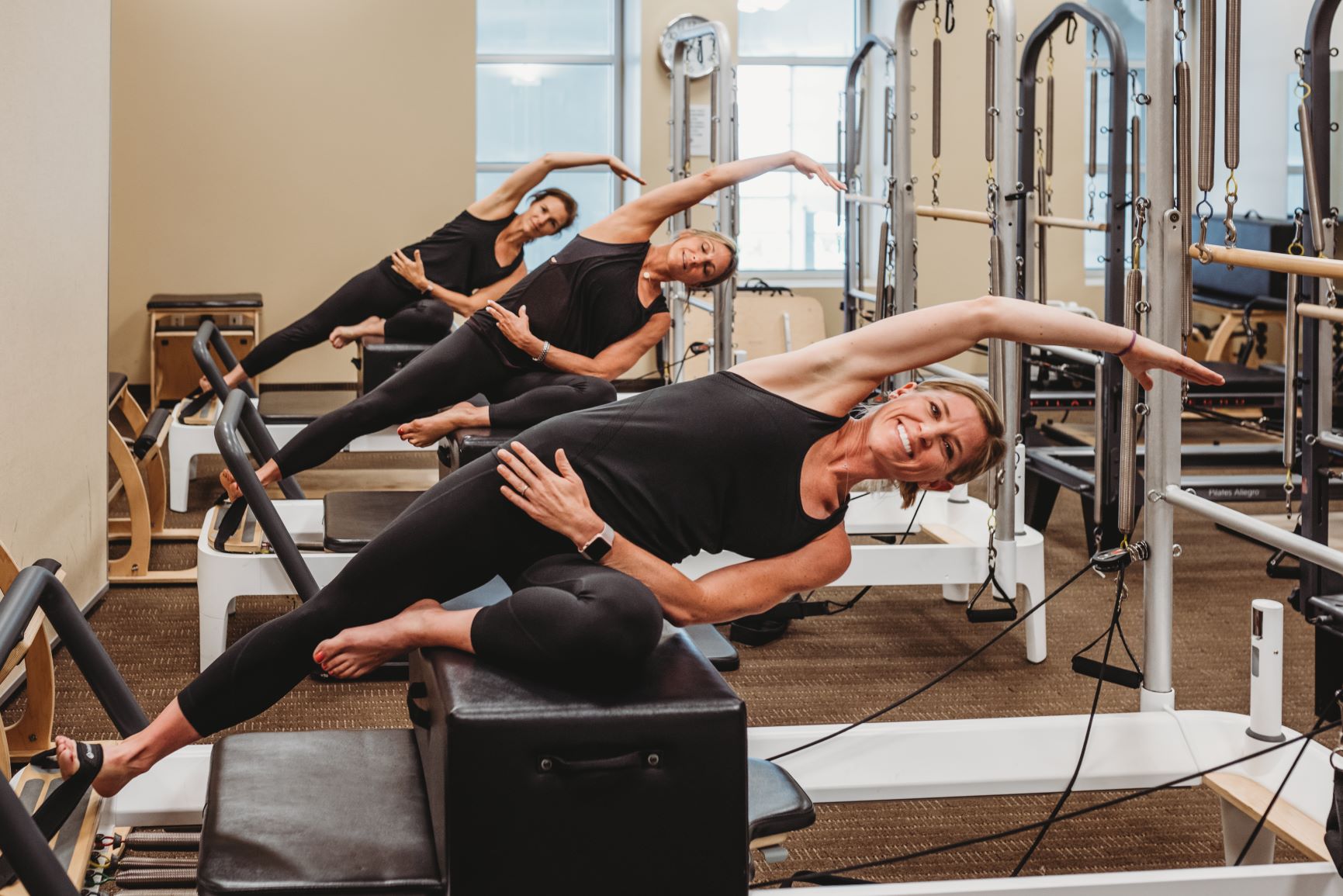 PILATES BENEFITS THE WHOLE BODY
When the WHOLE BODY is working together, and when we are strong on the INSIDE and when we train our BODY to move correctly we….
LOOK better FEEL better MOVE better
And have more ENERGY to better PERFORM the basic daily tasks of life as well as demanding exercises and activities.Through strengthening and stretching, the body is brought into alignment while the core is activated and the spine is supported. You will strengthen what is weak and stretch what is strong. Learning how the body is designed to move will help you keep musculature and bone structure in an optimal state, promoting movement with more freedom and less stress.
PILATES IMPROVES QUALITY OF LIFE
Email Ali Baptist at abaptist@genesishealthclubs.comto begin your Pilates journey
THE PILATES STUDIO
PRIVATE & SEMI-PRIVATE TRAINING OPTIONS
PRIVATE PILATES TRAINING - is for the individual interested in learning the core fundamentals of Pilates exercise as well as challenging their level of fitness and learning the many variations performed on the mat and all available apparatus (Reformer, Cadillac, Chair and Barrels). Private Pilates training is designed to meet the needs and interests of the individual. The one on one environment allows the trainer to focus on the specific challenges of their client as well as help them to successfully reach their goals. Private Pilates is appropriate for those dealing with specific considerations such as spinal issues and back pain, post-rehab, fatigue, tight muscles and joints and more. Private training is ideal for those that want quicker results and want to feel physical improvements specific to their needs. It is also appropriate for the "very in shape," elite athlete with a desire to avoid or improve issues that are a result of muscle imbalances or improper body mechanics. Please contact us to schedule your complimentary Pilates Assessment and Pilates session. You will learn more about how Pilates will help you and the training options that will best meet your needs.
SEMI-PRIVATE PILATES TRAINING – Been couped up for the last year? Haven't been working out regularly and missing seeing some of your friends? Get together in the studio and get back in shape safely with Pilates in one of our private studios. You and one or two friends will work with a certified instructor towards your goals. People that workout with a friend tend to work harder and cancel less, reaching goals faster and having a great time in the process. Semi-private sessions are great for people at about the same fitness level, regardless what level that may be. Anyone just starting out to elite athletes are all welcome to come and workout in this duet format.
All Private and Semi-Private Pilates sessions are scheduled directly with a certified trainer. Please email the Pilates Coordinator for more information.
Pilates Group Equipment Classes
Prerequisites: Injury free individual that has completed one Pilates assessment with a Genesis Pilates Instructor, is comfortable on the equipment and familiar with the reformer set-up and springs as well as any modifications they need for class, and has been cleared for classes by a Genesis Pilates Instructor.
Email Ali Baptist at abaptist@genesishealthclubs.com
PILATES GROUP EQUIPMENT CLASSES– Whether you are looking to supplement your private Pilates practice by adding a class to your routine or want to have the classes be your routine, The Pilates Studio at Fort Collins Club offers classes most days of the week and at a variety of times. Classes are small to maximize individual attention and are limited to 3-5 students. Classes range from beginner to advanced and your instructor can help guide you to the most appropriate classes for your ability.
The Pilates Studio at Fort Collins Club offers classes in 2 studios on our 2 Cadillacs, 7 reformers, 8 Towers, 7 chairs, barrels, spine correctors, and jumpboards.
REGISTRATION FOR GROUP EQUIPMENT CLASSES– Once you are approved to take classes by a Genesis Pilates Instructor, you will purchase classes at the front desk at Fort Collins Club then create an account on MINDBODY. Your purchased sessions will be loaded onto your MINDBODY account and you can register for any class you are approved to take and as many classes as you have on your account.
Check out the Pilates Group Class Schedule and set-up your MINDBODY account through the following link:
Pilates Group Equipment Classes Cost: $22 each
10-20-30 CHALLENGE
"In 10 sessions you'll feel it. In 20 sessions you'll see it. In 30 sessions you'll have a whole new body."- Joseph Pilates
Want to take the challenge and prove Joe right? Commit to the 10-20-30 Challenge and get started today. Great for any fitness level. With 30 private sessions in 15 weeks, you will earn a whole new body through discipline, sweat, and fun. Work one-on-one, two times a week with a certified instructor. Get the tools you need to reform your body and change your life. Build a stronger core, better posture, increase flexibility and balance, and become leaner and healthier. Commit to 30 private sessions in 15 weeks at a discounted rate and get working on your Pilates body!
Email Ali Baptist at abaptist@genesishealthclubs.com
PILATES PARTY
Let's meet at the Pilates Studio at Genesis Health Clubs for a PILATES PARTY!
The Pilates Party is a fun way to share Pilates with your friends and family. The two-hour event includes a Pilates workout of your choice on the Reformer and a social to follow. You provide the group and we'll provide the Pilates Party!
A Few Party Ideas
Birthday
Bridal Event
Girls Night
Sister Bonding
Date Night
Office Group Intro to Pilates
Hors d' oeuvres
Veggie Tray
Fruit and Cheese Tray
Chip n Dip Snack Tray
Dessert Tray
Cake or Cookies
Drink Options
Wine
Champagne
Water and Tea
Soda
COST: Group of Four $180 | Group of Six $250
Contact Ali Baptist at abaptist@genesishealthclubs.com for more info
PILATES MAT CLASSES & BARRE FITNESS
Pilates Mat classes and Barre Fitness at Genesis Health Clubs are part of the Pilates Training Method. An integrated series of fluid movements that are beneficial for all ages and abilities. Pilates is designed to condition the entire body, using positions and movements that simulate functional activities. Mat classes are an extremely important part of any Pilates routine. Did you know the reformer is named the reformer to reform your body for the mat work?
Barre Fitness fuses concepts of ballet, Pilates & conditioning. It begins with a warm up focusing on postural strength & alignment. Light weights tone the arms while the barre is used to sculpt the lower body & abs. The class moves down to the mat for core work & stretching. This ballet inspired routine sculpts the entire body & results in a long, lean physique.
Pilates Mat classes and Barre Fitness are a part of your membership. There is no additional cost. Please check out the Group Exercise Class Schedule for times.
The PILATES STUDIO AT FORT COLLINS CLUB POLICIES
Cancellations- You must cancel 24 hours prior to your session or class to avoid being charged. Please contact your instructor directly.
Length- All classes and sessions are 55 minutes in length
Free Monthly Pilates Equipment Classes
First Saturday of every month at 10:30 am (unless it is a holiday weekend)!
For anyone new to Pilates at Genesis Fort Collins Club come see what Pilates is all about! Experience Pilates reformer, tower, and chair and find out how Pilates can change your body. The monthly free Pilates Equipment class lasts about an hour and can have up to 4 students.
Register at the Fort Collins Club Front Desk or by calling 970-224-2582