Personal Training
The Best Missouri Personal Trainers!
Genesis Health Clubs offers our members the best in personal training. Our trainers will provide you with a constantly evolving and proven path for reaching your health and fitness goals.

Regardless of your primary motivation to begin an exercise program, our personal trainers will help you achieve your fitness goals. Your body will feel better, perform better, and look better. We guarantee results, empowering you to get the most out of your fitness program.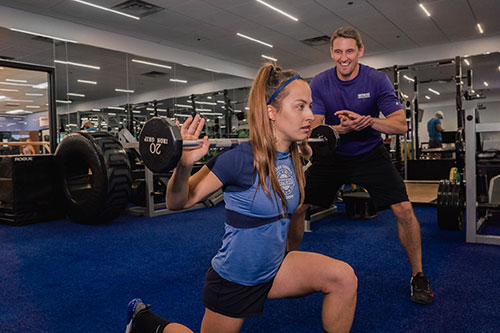 "I thoroughly believe the trainers that you find at this club are top of the line, and they continue to grow. The team strives for results, plain and simple. They are meticulous about their methods, and they love new challenges. I mean, it doesn't matter if you need help learning what a piece of equipment does to learning a workout regimen (meal plans included), they are ready for anything, and they welcome you with open arms. Relationships are built here, and the client/trainer bonds amaze me. I'm ecstatic when a client brings in "healthy" treats to their trainer not only to show their appreciation for their trainer but to simply show they now know how to "snack healthily," which is huge!
These trainers are excellent preceptors, and ultimately that's what we want to do. We want to teach and mentor so that individuals can reach their full potential and know what's right and wrong. We base our prescriptions and teach on the scientific principles of training, creating a systematic approach. We develop a philosophy of training, fully understanding and accepting the importance of consistency, creating a determined and purposeful attitude, and committing to a well-defined goal.
I can guarantee you that you will not find another gym in town with a PT department that has as much knowledge, drive, charisma, and pure passion for what they do and where they're at as my team here at Genesis Health Clubs -Springfield North."
Graham Smitham
Personal Training Coordinator
Springfield North

Testimonials of Genesis Personal Training at Springfield North
My trainer Zach gives me tips for how to make my days away from the gym still beneficial, and every gym day means something! I enjoy my workouts and get so much out of them, even when they hurt. Zach is careful to watch my form, ensuring that every movement is getting the most benefit, while keeping my joints and tendons safe. He never lets me sacrifice safety for one more rep. Lately, I've had so many people asking me what I did to lose weight and telling me how great I lo k. I ll them, "Whatever Zach tells me to do!" I've had so much support through my changes. Zach is always available for a text, a call, a question about being out, and asking what the menu's best choice is. He understands that we live in a world where we can't always make the whole food choice, but we can try to plan to do so. Through my journey, I've lost about 20 pounds! I fit into clothes I haven't worn in years! I feel amazing! It just shows that with the right support and coaching, anything is possible. There are no excuses. I'm so excited to see what happens in the next six months, and I couldn't choose a better support system than Zach Miller and his team at Genesis Health Clubs.
- Tiffany René Ellis

Lanae has proven to be knowledgeable in various exercises and exercise equipment. She is confident in me. Proper technique and form are very important to her. Her strength for me as an individual is her ability to push me, proving to me that I am strong and capable. I have lost one pant size since training with Lanae. I am stronger, and my loved ones have noticed the positive changes to my appearance and attitude.
- Laura Miltenberger