This Club Has Reopened! So Has Kid's Club!
This club is open and hours have expanded! In addition, Kid's Club is now open!
To see this club's hours and Kid's Club hours, simply click on the "Hours" tab on this page.
St. Joseph Aquatics
St. Joe offers year around swim lessons! See below for pricing. The 25 meter lap pool is always set at a nice 85 degrees. We offer many Group Fitness Aquatics classes; see the Group Fitness schedule for class times. Members are always welcome to swim laps at any time there is a lane available, first come first serve.
For more information contact the Aquatics Coordinator Mary Frazier mfrazier@genesishealthclubs.com.
Our mission:
Provide specialized training tailored to help each individual find their success in the water
Equip swimmers with the ability to react in an aquatic emergency, to not only sustain their own life, but to also aid those in need
Bring Fun on the deck and into the water
Instructors:
Mary Frazier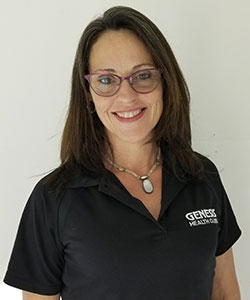 Aquatics Coordinator
Genesis Swimming and Water Exercise instructor since 2014
Degrees and Certifications:
-American Red Cross Lifeguard Instructor
-CPR instructor certification
-YMCA Swim Instructor and trainer in 2010

Bio: Mary has always had a love for aquatics but, for the past 10 years she has continued to further her love of the sport by becoming a Lifeguard instructor, a swim instructor, United States Synchronized Swim judge and coach taking 3 girls to Regional's. She has been an Adjunct professor for Missouri Western State University teaching Aquatics since 2011. In 2014, Mary started working with Genesis Health Club in Saint Joseph. She managed their outdoor pool program. Now she is looking forward to creating the best Aquatic experience in our new pool for all of Saint Joseph.

Exercise Philosophy: Aquatics is my passion and sharing my love of this wonderful sport with our community. I have loved the water since I can remember. I am a mother of seven who fell in love with teaching and Aquatics 15 years ago. It has been my pleasure and honor to teach so many to enjoy the water safely and efficiently.
Private Swimming Lessons:
Genesis offers private swimming lessons year round in their heated pools, taught by highly trained instructors. The programming of these lessons is set to align with your schedule, so Contact Mary Frazier, Aquatics Coordinator, to arrange for a complimentary lesson.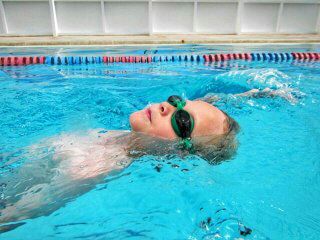 Group Swimming Lessons
Our group swimming lesson program was created to help each young swimmer find their success in the water. We serve ages 6months- 13years, and we aim to have all of our swimmers safe and self sufficient in the pool. Please read below for class descriptions:
Baby and Me Swim Classes
Saturday: 10:30am - 11:00am
This class builds basic water safety skills for both parents and children, helping infants and young children to become comfortable in the water so they are willing and ready to learn swim. These basic skills include adjusting to the water environment, showing comfort while being in front position and back position in the water, and demonstrating breath control (including blowing bubbles and/or voluntarily submerging underwater).
Ages: 6 months to 3 years old. Parents in class with baby. Swim diaper required.
Beginners 1 Ages 3-5
Monday & Wednesday: 4:30pm - 5:00pm | Saturday: 10:30am - 11:00am
This class helps both new swimmers and those that might be fearful of water to focus on water safety, floating, front, and back movements, breath control, and hybrid strokes.
Ages 3 – 5 years old
Beginners 2 6 & Up
Monday & Wednesday: 5:15pm - 5:45pm | Saturday: 11:15am - 11:45am
This class is designed to focus on water safety and introduces the freestyle, backstroke, and elementary stroke while building endurance.
Ages 6 and up
Intermediate
Monday & Wednesday: 5:15pm - 5:45pm | Saturday: 11:15am - 11:45am
This class is designed to develop and refine freestyle, backstroke, and to introduce the breast stroke and butterfly, along with various turns and racing starts. This class will build endurance and technique.
Ages 6 and up, knows freestyle, but need technique.
Swim Team Conditioning
Tuesday & Thursday: 4:30pm - 5:30pm
This swim class is an hour and focuses on competitive strokes, turns, and starts for swim team competition. We will build endurance and refinement of strokes through drills. This is a great class for those who also love swim and just want the exercise. Please register early as space is limited.
Ages 8 and up, knows Freestyle, and can swim laps
Private lesson and semi-private lessons available upon request!
100 mile swim Club:
Do you have what it takes to swim 100 miles? The Aquatics Program at Genesis challenges each and every member to the swim of a century. Log your miles, and swim at your own pace, the Aquatic department will celebrate the milestones overcome! Each member that completes the feat will receive a 100-mile swim club tee-shirt, along with the admiration for enduring such a long swim!
100 mile swim club ends June 30th and will resume October 2019.