Power with Parkinson's
Power with Parkinson's Classes are ongoing and progressive Parkinson's specific exercise classes! They are hosted during weeks 1-3 of every month.
We have two different class programs available:
Power with Parkinson's Fitness (assisted and unassisted classes)
Power with Parkinson's Yoga
Power with Parkinson's Fitness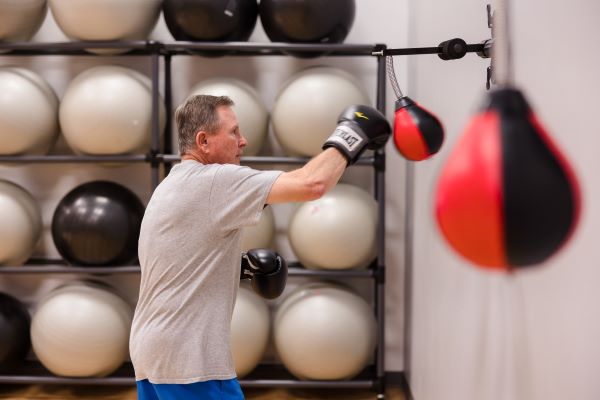 This class combines proven science-based exercises, drills, balance techniques, and more to gain strength, balance, agility, and fight.
The class is led by a certified exercise specialist, adaptive fitness specialist, master trainer, and rehab professional.
We have an assisted version of the class for participants that are at a greater fall risk or use a cane, walker, or wheelchair. This class goes at a slower pace and a chair is provided for each participant.
Assisted Class Time: Tuesdays from 3:30 - 4:30 PM
Non-assisted Class Time: Mondays and/or Wednesdays from 3:30 - 4:30 PM
Power with Parkinson's Yoga
This is a stretch, flexibility, strengthening, and relaxation class for those with Parkinson's Disease.
We will educate participants on muscle engagement, as well as various stretching techniques to combat pain and stiffness.
All fitness levels are welcome! Participants must be able to sit and move independently, either on a chair or a mat. However, modifications for all ranges and mobility will be offered.
Class Time: Saturdays from 1 - 2 PM
How much does it cost?
Each program costs $40 per month.
You must be a Genesis member to participate. Participants can enroll in multiple programs if desired.
How do I get started?
Register at the front desk of our Brownwood location or contact Tammy Dunseath for more information regarding classes:
tammy.dunseath@genesishealthclubs.com | (352) 512-4419