Blog
Wednesday, May 6 2015 4:18 PM
With a new month, Group Fitness brings us three new instructors!!!

Cherisse Taylor, Leah Haden and Jacqui Patten are all recent trainees from Group Ride training. They will be teaching Ride classes at WC on a regular basis. Beginning Monday, May 4th, you can join Leah for our 5:45pm Group Ride class. Wednesdays at 5:45pm you can join Cherisse or Beth Shonka for Group Ride as they rotate each week. Jacqui, Cherisse and Kurt will be alternating teaching our Saturday 8:15am Group Ride as well. New faces and enthusiasm will get you through your 60 minute cycle class!!! Come join the Fun!!

Have you ever tried ATC?? Athletic Training and Conditioning is a 60 minute cardio class that includes strength training and drills to raise your heart rate to it's maximum!! Ann will be teaching a NEW ATC class on Wednesdays at 9:15am beginning May 6th, in place of her Cardio and Iron. If you are looking for something new, this class may be for you!!!

"Group Blast Music Moves You!!" Tonia and Greta launched the brand new April 2015 Group Blast release last Saturday, April 25th. This is our newest MOSSA Program to Genesis. This one hour cardio class uses a step and increases agility, heart rate, strength and balance. The class can be taken by all fitness levels, as it can be modified and done on the floor as well. Group Blast is offered on Tuesdays at 9:15am, Thursday and Friday evenings at 5:45pm, and Saturdays at 8:00 and 11:30am.
Tuesday, April 7 2015 2:19 PM
SPRING HAS SPRUNG!! APRIL IS A BUSY MONTH AT WEST CENTRAL!!!
Our MOSSA launches begin this Saturday!! With each launch, we introduce new music, moves and choreography!! Join us for one of our motivating classes, and if you have never tried one of our MOSSA programs, it a great time to try it!!!
Saturday, April 4th
8:15am Group Ride launch with Kurt
10:15am Group Power launch with Kinsey and Tonia
Saturday, April 11th
9:15am Group Kick launch with Shannon
Sunday April 19th
1:00pm Group Centergy launch with Tonia and Leslie
Saturday April 25th
11:30am Group Blast launch with Tonia and Greta
Our April classes of the month are……. H2O Fit and Group Blast!!!
-H2O Fit incorporates cardio, strength training and stretching in each class. The music is fun and fast paced. There is a variety of equipment used, from dumbbells, tires and paddles to kickboards. This class takes the stress off of your joints and challenges you in different ways than land classes. Join Patti for class on Mondays at 9:00am or Edie or Marila on Tuesday evenings at 5:45pm. Both are held in our warm lap pool.
-Group Blast is a one hour cardio class utilizing our steps. There are ten "tracks", and each track has a specific purpose, pushing your heart rate to it's maximum, all while challenging your balance and strength. All ages and fitness levels are welcome to try Group Blast, as the class can be done using a flat bench, or no bench at all, depending on each member. Great music, and motivating instructors will push you to your limit!!! It is fun!!! Try Group Blast on Tuesdays at 9:15am with Shannon, Thursdays at 5:30pm with Tonia, Fridays at 5:30pm with Greta, Saturdays at 8:00am with Greta, or Saturdays at 11:30am with Tonia!!!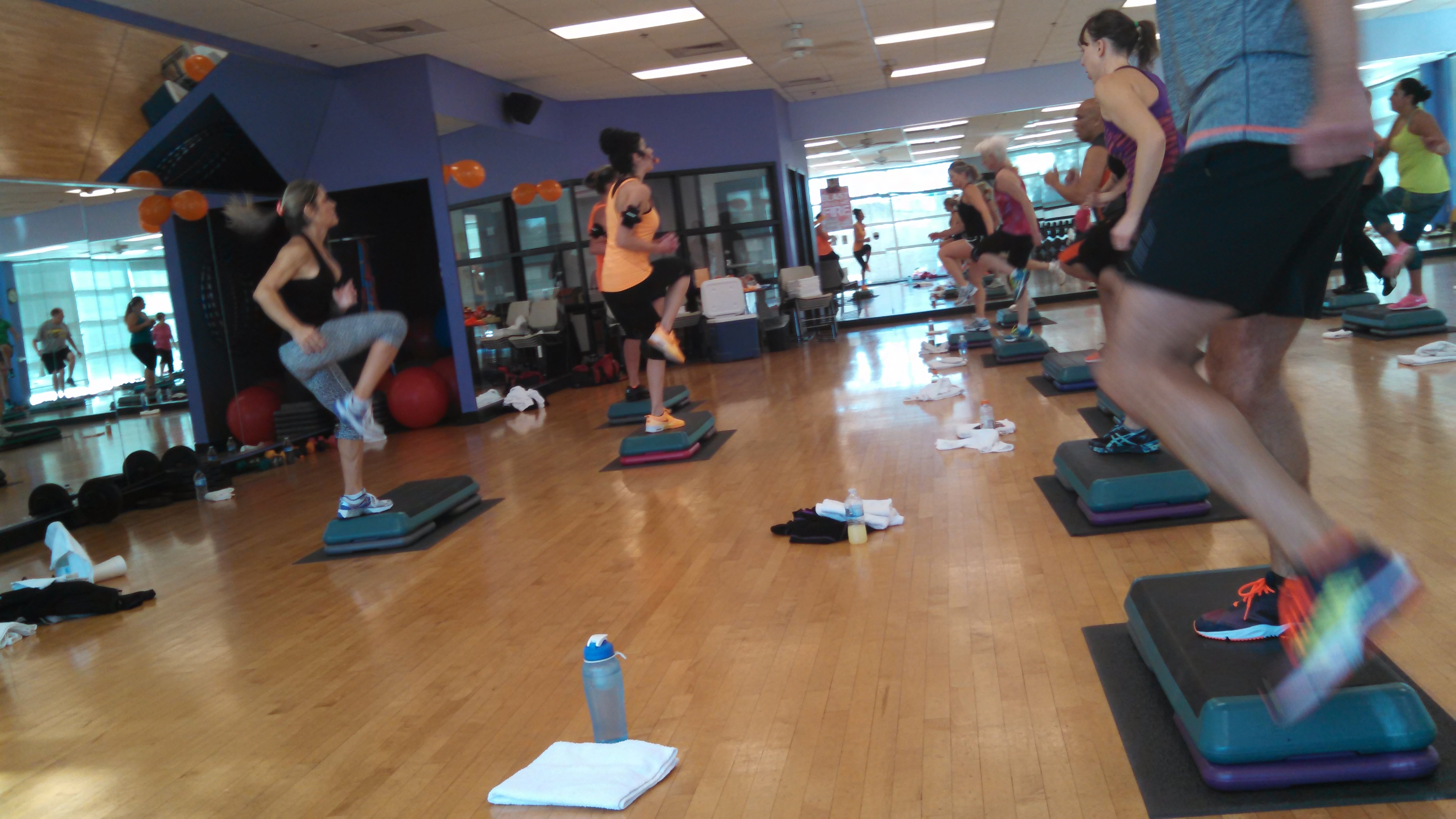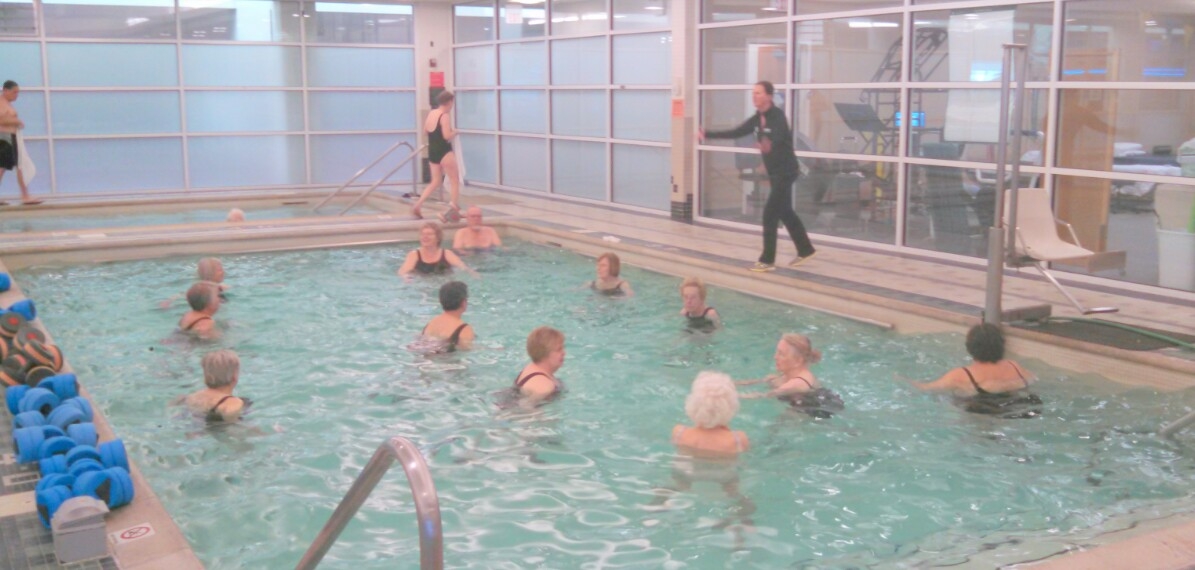 Monday, March 2 2015 2:27 PM
Spring time is almost here!!! March brings us two new classes displayed as Class of the Month! Group Kick and Early Birds!!
Early Birds is an Aquatics class taught by our awesome instructor Shelley. This is a 60 minute class that combines cardio, strength training and stretching into one class. Barbells, paddles and inner tubes are used to work both upper and lower body. All members can go at their own pace, and you get a great workout using the resistance of water. Join Shelley for Early Birds in our warm lap pool on Mondays, Wednesdays and Fridays at 8:00am!
Group Kick is a fun, upbeat cardio kick class that uses top of the chart music to integrate boxing, Muay Thai and superbox into a 60 minute workout. It will tone your arms, make you sweat and will fly by as you work through different "tracks" that all have a different purpose. The format and music change every three months, so there is always something new offered. Group Kick is taught on Saturdays at 9:15am in Studio A by either Amie or Shannon.
Our G30 bootcamp for new members kicks off for March on Tuesday, March 3rd. Join Andrew, our motivating bootcamp instructor on Tuesdays and Thursdays at 6:30pm or Saturdays at 10:00am!! Questions about G30 bootcamp? Our Fitness Advisors, Personal Training Coordinator, Front Desk staff or Group Fitness Coordinator can assist you! Hope to see you there!!!
Tuesday, February 10 2015 1:19 PM
February brings members of West Central three new classes to the schedule!! Ai Chi, a 30 minute Aquatics class, focuses on range of motion, flexibility and balance. Smooth movements are taught to help reduce pain and relieve stress. This class is offered on Wednesdays from 11:00-11:30am with Edie in our warm lap pool. Group Blast, a 60 minute cardio class that launched at Genesis in late November, will be offered at two new times: Fridays at 6:30pm and Saturdays at 8:00am, both with Greta!! Come prepared to move and sweat!!!
Happy Valentine's Day! Join Carol on Saturday, Feb. 14th at 10:15am, for "Open Your Heart", a special version of our Yoga Flow class held at this time. All members will receive goodies after class!!!
February's classes of the month are…… Butz, Gutz and Ironworks and HIIT The Water!! Butz, Gutz and Ironworks is offered Tuesdays/Thursdays at 11:15am with Brenda, and Fridays at 9:15am with Shannon. You will spend this hour focusing on tightening and toning the lower body, while adding dumbbells and other equipment for an upper body workout. HIIT The Water is an interval class in our warm lap pool. Members work in 20 second intervals, with a short break in between rounds. Working out in the water adds extra resistance, as well! HIIT The Water is offered on Mondays at 10:00am and 5:45pm, Tuesdays at 8:00am, Wednesdays at 5:45pm, Thursdays at 10:00am, and Saturdays at 8:00am.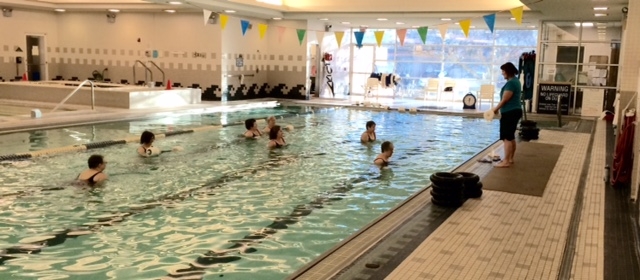 Thursday, January 8 2015 1:22 PM
Happy New Year!! 2015 is going to be a great year! We are so excited to begin our new year with 5 MOSSA launches in January! Every quarter, Genesis introduces a brand new release of each MOSSA program, which includes new music and choreography. Which will be your favorite??
January 4th, 1:00pm Group Centergy with Tonia and Leslie
January 10th, 8:15am Group Ride with C and Kurt
January 17th, 10:15am Group Power with Tonia, Ann and Shannon
January 24th 9:15am Group Kick with Amie
January 31st 11:30am Group Blast with Tonia, Shannon and Greta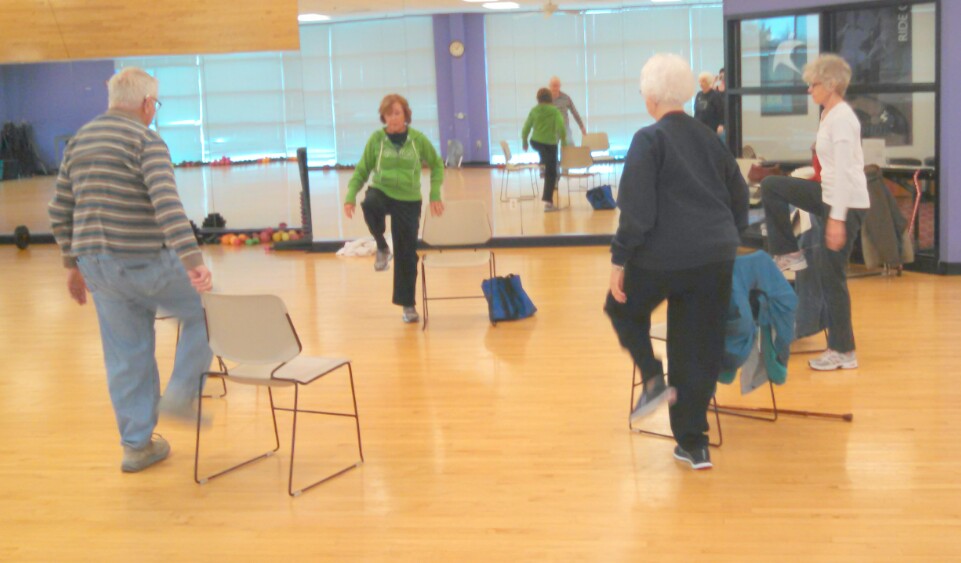 January 2015 brings us two awesome classes as our featured "Classes of the Month".
Arthritis Land class is offered on Tuesdays at 1:30pm with Shelley, and Thursdays at 1:30pm with Edie, both located in Studio A... This is a slow paced class that focuses on stretching, flexibility, mobility and balance. Members begin in chairs as they work upper body joints, as well as some ankle and leg movements. Standing exercises follow, working balance. Using motivating music, members make their way around the studio practicing various exercises. This class is meant for any level of fitness.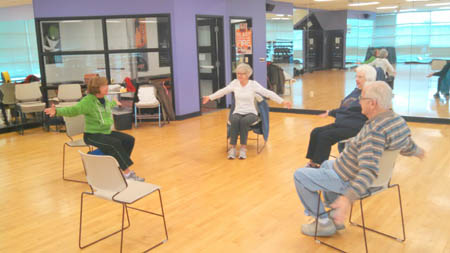 Aqua Fit Life is offered on Monday, Wednesday and Friday at 2:15pm in our warm Therapy Pool, which is maintained at a warm 94 degrees. Jan leads this class. Members work on flexibility, range of motion and light cardio endurance. No special equipment is necessary, Genesis supplies everything you need!
Aqua Fit Life + is offered on Monday, Wednesday and Friday at 8:00am with Shelley, or at 1:00pm with Karen. This class still focuses on flexibility, range of motion and endurance, but is more aerobic and intense than Aqua Fit Life classes. The Therapy Pool is always maintained at 94 degrees, and no special equipment is necessary. Swim shoes can be worn if desired. You will experience 30 minutes of aerobic activity, followed by 30 minutes of stretching and mobility exercises.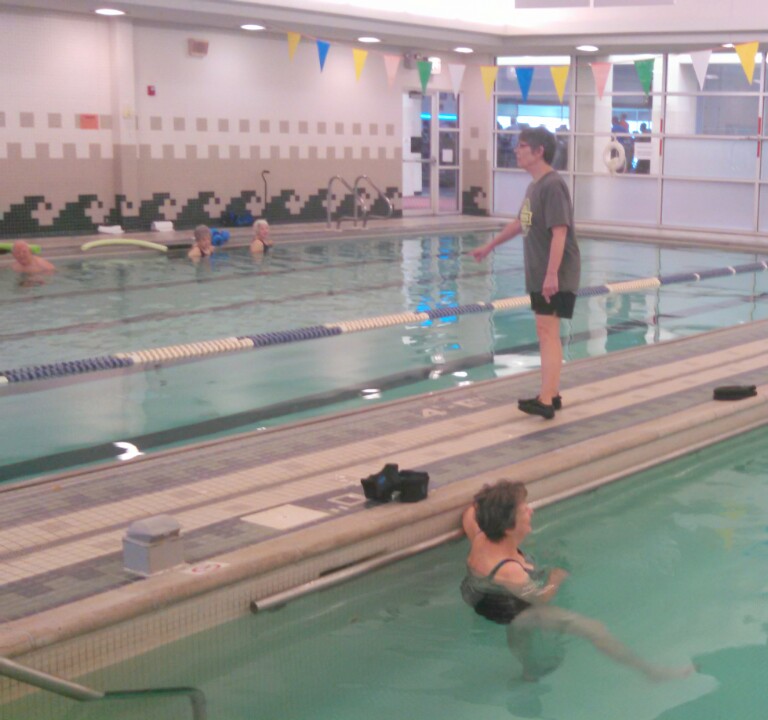 There are just a few schedule changes with the start of 2015:

The Saturday 9:00am Pilates Mat Class in Studio C with Joe will begin at 9:15am beginning January 3rd.
The Friday 9:00am PowerSplash and 10:00am Hydrostrength, both held in the Lap Pool, will be taught by Edie as of January 2nd.

May the 2015 bring health, opportunity, happiness and joy to you and all of your loved ones!!! HAPPY NEW YEAR!!