Youth Programs
KidFit
This complimentary fitness program is designed to be a fun engaging way for children to be active and cultivate a knowledge of physical education. Each class our enthusiastic and caring coaches will facilitate new games, sports and fitness activities to keep class participants engaged and having fun! Program is included for our Youth Members.
Days / Times
Monday 5:30 pm
Wednesday 5:30 pm
Saturday 10:15 am
Ages
5 - 12 years
To participate in a complimentary Youth Fitness Program, please check in at the Kids Club.
Questions? Contact Ashley at aingram@genesishealthclubs.com
Parents Night Out
Take the night off and we'll take care of the kids! Each night includes a variety of gym games, swimming, a pizza dinner and movie to finish off the night!
Day / Time
Friday 6:00 - 10:00 pm
Dates
January 25
February 22
March 29
April 26
May 24
Ages 6 weeks - 12 years
Cost
Member $10 / child
Non-Member $15 / child
Must register 24 hours in advance.
Athletic Development Center
The Athletic Development Center focuses on developing a solid foundation on which to build athletic performance. The programs, let by nationally certified coaches, are always safe, effective, and fun. For more information, contact Andy Held, 316.721.6600 or aheld@genesishealthclubs.com
Kids Personal Training
Genesis offers personal training for kids who are ready to improve their athletic abilities and overall fitness level. A certified trainer will supervise the child to ensure that the proper techniques are being used on each exercise while keeping the program fun and effective.
For more information, contact Andy Held at 316.721.6600 or aheld@genesishealthclubs.com
Junior Tennis Academy
The Junior Tennis Academy is a year-round program designed to help young tennis players between the ages of 4 and 18 improve their skills. At the Junior Tennis Academy, participants receive coaching from certified and experienced tennis professionals.
For more information, contact Dave Chera at 316.721.6600 or dchera@genesishealthclubs.com
Private Swimming Lessons
Genesis offers private swimming lessons year round in their heated pools, taught by highly trained instructors. The programming of these lessons is set to align with your schedule, so Jordan Ternes at jternes@genesishealthclubs.com to arrange for a complimentary lesson.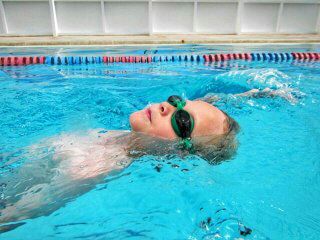 For more information about the aquatics program visit the West Central Aquatics page.