Rodney Steven II

Owner/President

Location: Rock Road
Department: Corporate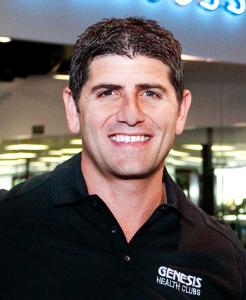 Rodney Steven II Bio | Wichita, KS
Born April 14, 1972
Bachelor of Science in Speech Communication
Southern Illinois University, Carbondale 1994
Owner of Genesis Health Clubs
Steven Enterprises LLC Co-Owner
6S Steakhouse
AYSO Region #208
Auto Boutique
Blast Off Bay Waterpark
Brandon Steven Motors
Eddy's Allstate Insurance
Eddy's Independent Group, LLC
Eddy's Everything
Eddy's Chevrolet & Cadillac
Eddy's Chrysler Dodge Jeep Ram
Eddy's Mazda of Lee's Summit
Eddy's Lincoln
Eddy's Toyota
Eddy's Volvo Cars of Wichita
Genesis Health Clubs
Honda of Downtown Los Angeles
Harbor Chevorlet Hyundai - Long Beach
Kansas Billboards
Lead Financial Services
Leap/Sky Trampoline Parks
Subaru of Wichita
Steven Collision Center
Super Car Guys
Steven Brothers Sports Management
Wichita Thunder


Rodney Steven Professional and Personal Biography
Rodney Steven II, President, and Owner of Genesis Health Clubs, attended Southern Illinois University in Carbondale, Illinois, on a tennis scholarship. Before attending the university, he actively taught tennis and was physically active himself. After graduating, Rodney continued following his vision of pursuing a healthy lifestyle and helping others in his hometown do the same and soon recognized the need for a fitness center focused on top-quality customer service and personal attention.
The service-oriented, results-based training model was born from this early vision, and Genesis Health Clubs anchored its rightful place in the fitness industry.
Genesis Health Clubs currently has seven facilities in Wichita, with 63 total locations in the US. Over the years, Genesis has expanded its reach, opening clubs in every city in Kansas with a population of over 30,000 and locations in Missouri, Nebraska, Colorado, Oklahoma, Iowa, and Florida, expanding to be a national brand. This includes major cities like KCMO, Tulsa, Omaha, and St. Louis, giving customers the most well-rounded and professional fitness experience in the Midwest and Mountain states, as well as the East coast.
Within each of the 63 current locations, members will find state-of-the-art, top-of-the-line equipment and the latest and greatest in fitness trends from around the country. Each club also provides specialized amenities and services, including free towel service, Racquetball, Basketball, Volleyball, certified personal training, full-featured locker rooms, indoor running tracks, child care, tanning services, steam rooms, saunas, hot tubs, swimming pools, indoor and outdoor tennis courts, spa services, Pilates training studios, and more.
With 150,000 patrons coming through the doors daily, Genesis has maintained the best facilities, hired the best staff, and provided thousands of members, from youth to senior citizens, the ultimate fitness and exercise experience.
Genesis owns most of its properties and operates each one of them.
Through many associations made over the years in sports and sports training, Rodney Steven II has had the opportunity to branch out into other businesses. This includes the Goddard Sports Complex in Goddard, Kansas, consisting of a health club, pre-school, hotel, the indoor waterpark Blast Off Bay, ten tournament baseball and softball fields, and a competitive natatorium, restaurant, and sand sports.
Rodney Steven in the News
Steven has recently received a great deal of media coverage regarding Genesis' explosive growth:
Another massive win for Steven was the purchase of the Wichita Thunder Hockey Team, part of the ECHL affiliate program. The first season under new ownership, the Thunder posted a winning record and bid for the league championship.
Rodney and his brother, Brandon Steven, co-own the Thunder together under Steven Brothers Sports Management. Rodney is also co-owner in multiple car lots (Brandon Steven Motors, Eddy's Toyota, Eddy's Volvo, Eddy's Chevrolet & Cadillac, Eddy's Mazda of Lee's Summit, Eddy's Chrysler Dodge Jeep Ram, Eddy's Lincoln, Super Car Guys, and Subaru of Wichita) with Brandon. The pair also recently opened 6S Steakhouse, a first in fine dining for West Wichita.
Rodney's passion for fitness extends beyond just the health club industry and into philanthropy. In 2006, Rodney and Brandon founded the Genesis Foundation for Fitness and Tennis (GFFT). This 501c3 foundation operates to allow all citizens, regardless of background and means, the opportunity to participate in recreational and competitive fitness activities. GFFT provides funding and scholarships for individuals interested in tennis, both for recreation and competition, and at-risk, disadvantaged, and otherwise under-funded youth. GFFT has also recently donated hundreds of pairs of shoes and mattresses to disadvantaged youth with its Kicks for Kids and Beds for Kids programs. It is Rodney's mission to make sure that all children have the opportunity to experience the joy of fitness, and GFFT helps bring that goal closer to reality every day.
Steven Family of Wichita, KS
Rodney and his wife, Juliette, have six children (Breckyn, Rodney Steven III, Brittany, Vanessa, Rock & Berkley) and reside in Wichita, Kansas.