Gyms in Salina | Genesis Health Clubs
Genesis Salina offers top-of-the-line cardio and weight training equipment, excellent group fitness classes, and much more.
Unique features include Celsius tanning inside the club, two racquetball courts, indoor tennis courts, Shake This! Smoothie bar at the front desk, and Kids Club for child care services during your workouts.
FREE 3-DAY PASS
Fill out the form on this page for a free 3-day pass to our Salina location!
You'll be able to experience all of our luxury amenities, exciting group exercise classes, and top-notch equipment for no cost.
Keep reading for more details on this luxury health club!
Reach Your Fitness Goals with our Superior Staff and Trainers
An experienced team of group fitness instructors lead daily classes that address a wide range of target areas. Offerings include MOSSA programs, cycling, Zumba, and yoga classes, just to name a few.
Check out our Class Schedule here!
The club's talented Personal Training staff works closely with members who desire a one-on-one training experience. The upscale locker rooms include steam rooms in both men's and women's with an assortment of high-end personal care products and towel service for member use.
Award-Winning Service
Genesis Health Clubs in Salina received "The Reader's Choice Award" for Best Health Club in Salina. This award represents our staff's commitment to the service of all our members. It is truly remarkable to see that the community sees this as well.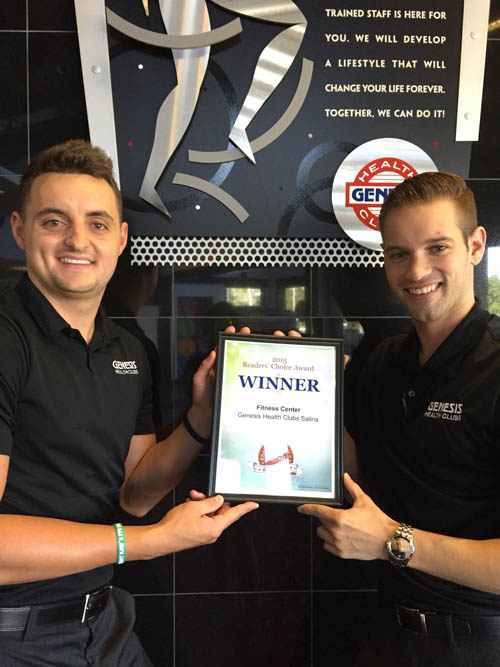 SERVICES
Wi-Fi Internet Access
Facility Rental
CPR-Certified Child Care
Elite Cardio & Strength Training Equipment
Spin Classes
Shake This! Smoothie Bar
Upscale Locker Rooms
Fluffy Towel Service
Steam Rooms
Racquetball Courts
SALINA GYM WITH IN-HOUSE CHILDCARE SERVICES
Need childcare during your workouts? Check out the in-house childcare services at our Salina location. At Kids Club, children ages six weeks to 12 years can enjoy fun learning activities while being supervised by our CPR-certified childcare specialists.
Kids Club is open at convenient times to help accommodate parents' busy schedules. Choose a Kids Club membership for unlimited visits throughout the month, or if you need only occasional childcare services, there's a low, affordable drop-in rate available to you.
Learn more about Kids Club here.
UNLIMITED GROUP FITNESS CLASSES
Check out all the group exercise classes at Genesis Salina, and find your new workout jam with the help of our industry-leading instructors. With their leadership, you can dance, ride, pump, lift, kick and step your way into better health.
Strengthen your core and improve balance and flexibility with Barre, yoga, or cardio dance. From low-impact/low-resistance beginner classes to boot camps, there's truly something for everyone to enjoy and meet their fitness goals with. Genesis instructors work hard to deliver a motivational, challenging, yet fun experience every time. We offer classes for all levels of fitness.
Check out the Salina class schedule here.
GYMNASTICS
Genesis Salina offers an exciting program called Sky Gymnastics for your children. Starting at 18 months old, you can register your child to learn gymnastics skills at a young age. Not only that, they will learn important life skills, like self confidence, overcoming fears, determination, and fitness. It's important to encourage these positive developments!
This Salina location also offers a gymnastics team for children with special needs.
Click here to get more information on Sky Gymnastics, including pricing options.
MEMBERSHIP AT SALINA = MEMBERSHIP TO OVER 40 OTHER GENESIS CLUBS
You read that right! Not only does your Gold-level membership grant you access to this Kansas fitness center, but exclusive access to over 40 other Genesis clubs across the Midwest and Mountain states, including the many Wichita-area Genesis gyms, Topeka locations, and Kansas City locations.
Browse our locations here and see which one you'll visit next!
SNAG A FREE TOUR & SEE FOR YOURSELF!
Want to tour the club before committing? No problem! Just fill out the form on this page for a free 3-day pass to our Salina club.
We can't wait for you to experience Genesis Health Clubs!