Reopening Announcement
This club has reopened!
More information can be found here.
Temporary Club Hours
All clubs will have the following temporary hours. Stay tuned for an announcement of expanded hours, coming soon!
Monday - Friday: 6:00 am - 8:00 pm
Saturday: 7:00 am - 6:00 pm
Sunday: 8:00 am - 6:00 pm
Gyms in Salina | Genesis Health Clubs
Genesis Salina offers top of the line cardio and weight training equipment, awesome group fitness classes and much more. Unique features include Celsius tanning inside the club, two racquetball courts, indoor tennis courts, Shake This! smoothie bar at the front desk and Kids Club for child care services during your workouts.
Reach Your Fitness Goals with our Superior Staff and Trainers
An experienced team of group fitness instructors lead daily classes that address a wide range of target areas. Offerings include MOSSA programs, cycling, Zumba and yoga classes, just to name a few. (Check out our Class Schedule here!) The club's talented Personal Training staff works closely with members who desire a one-on-one training experience. The upscale locker rooms include steam rooms in both men's and women's with an assortment of high-end personal care products as well as towel service for member use.
Award-Winning Service
Genesis Health Clubs in Salina received "The Reader's Choice Award" for Best Health Club in Salina. This award represents our staff's commitment to the service of all our members. It is truly awesome to see that the community sees this as well.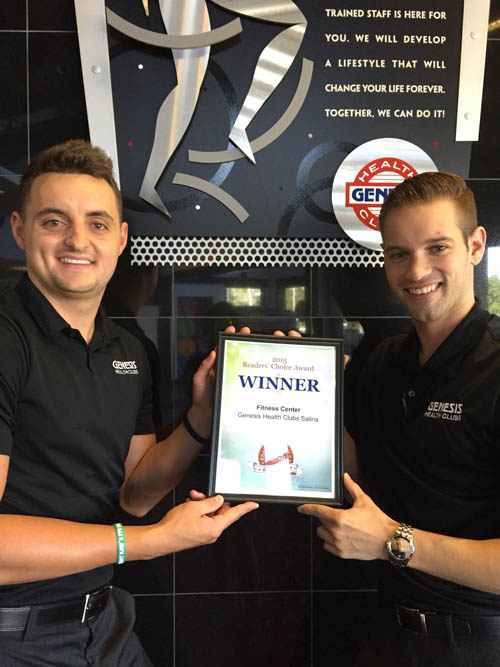 SERVICES
Wi-Fi Internet Access
Facility Rental
Child Care