Personal Training
Genesis Health Clubs are proud to offer our members the best in personal training. Our personal trainers will provide you with a constantly evolving and proven path for reaching your health and fitness goals.

Regardless of your primary motivation to begin an exercise program, our personal trainers will help you achieve your fitness goals. Your body will feel better, perform better, and look better. We guarantee results and we will empower you to get the most out of your fitness program.
For maximum results, many of our members chose to perform a series of personal training sessions. It is during this series that the trainer educates, motivates, and empowers the member to take the next step in changing their life and reaching their goals. Each club offers a variety of personal trainers with different skill-sets to ensure every member will be delivered the best programming and inspiration. You'll get more than just a great exercise program. Our personal trainers will help you improve your body composition, strength, endurance, flexibility, stress level and many other key factors that will help you look better and feel better every day.

If you are ready to take the next step in reaching your fitness goals, schedule a session with one of our personal trainers. Contact information for all Genesis Personal Training Coordinators is available on the links to the right. If you have any questions or concerns regarding personal training, contact me and I will make every effort to assist you.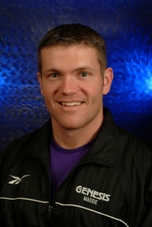 Yours in health,
Preston Petersen
CSCS, AHFS, FMS
Vice President of Personal Training
ppetersen@genesishealthclub.com
Our Mission
Take charge of your health. Team up with Genesis Health Clubs. We will listen to your needs, give you that extra motivation, and work with you every step of the way. Our certified, highly trained staff is here for you. We will develop a lifestyle that will change your life forever. Together, we can do it!

Our Commitment
To uphold our mission and be with you "every step of the way". Genesis Fitness Advisors and Certified Personal Trainers work together to give you the best exercise experience in the Midwest. Our trainers will end each training appointment by scheduling another appointment. You will receive guidance on your fitness program throughout your entire membership at Genesis Health Clubs.
The Process
1. Fitness Assessment
A Genesis Fitness Advisor will introduce you to the program on your first visit to the club. This includes a Fitness Assessment analyzing exercise habits, history, and enthusiasm. Our Fitness Advisors may also acquire current physiological data including anatomical measurements, cardiovascular fitness level, and fitness goals.
2. First Workout and Programming Session
The Genesis Personal Training Coordinator (Head Trainer) will guide you through your first session. This session will consist of a postural analysis and joint-by-joint approach to corrective exercise strategies. At the completion of the session the member will be guided through programming options customized to his/her individual needs. The Personal Training Coordinator will identify which factors are key to achieving results, and deliver solutions and implementation strategies for the member.
3. Individual Exercise Program (IEP) Session
It is during this session that the member will receive instruction on using equipment that is appropriate for them. Cardiovascular testing (VO2 Max Test) and cardiovascular equipment orientations are followed by a strength training workout and equipment orientation.

4. Nutrition Consultation
During the nutrition consultation the personal trainer will analyze the member's current nutritional habits, make suggestions for modification, deliver a sample meal plan and suggest nutritional products when necessary.
5. 4-Week Reassess / Reprograms
30 days after the nutrition consultation is utilized, the member is eligible for a 4-week reassessment. It is during this session the trainer will administer physiological testing (height, weight, body fat percentage, and circumference measurements), cardiovascular testing, (VO2 Max) and a postural analysis. Additional recommendations will be made at the conclusion of the testing.
The Objective
To get you in the best shape of your life! Our members want results and our staff is here to deliver! No other health club in the Midwest offers this type of service to its members! This service is included with your membership.