July 4th 2017 Holiday Hours
Club will close at 2 p.m. on Tuesday, July 4. Club will reopen on Wednesday, July 5 at 5 a.m.
Springfield South Aquatics
Springfield South offers year around swim lessons! See below for pricing. The 25 meter lap pool is always set at a nice 85 degrees. We offer many Group Fitness Aquatics classes, see the Group Fitness schedule for class times. Members are always welcome to swim laps at any time there is a lane available, first come first serve. The pool is open when the club is open. Lessons are available for your children, (infant through 17) or any adult member.
Springfield South also has a Hot Tub available set at a comfortable temperature of 104 degrees. The Hot Tub is available to members at any time. The pool and hot tub is brand new, we hope you all have had a chance to check it out! We are so excited to bring a pool back to the location and hope that you enjoy it.
For more information contact the Aquatics Coordinator AJ Vancamp at avancamp@genesishealthclubs.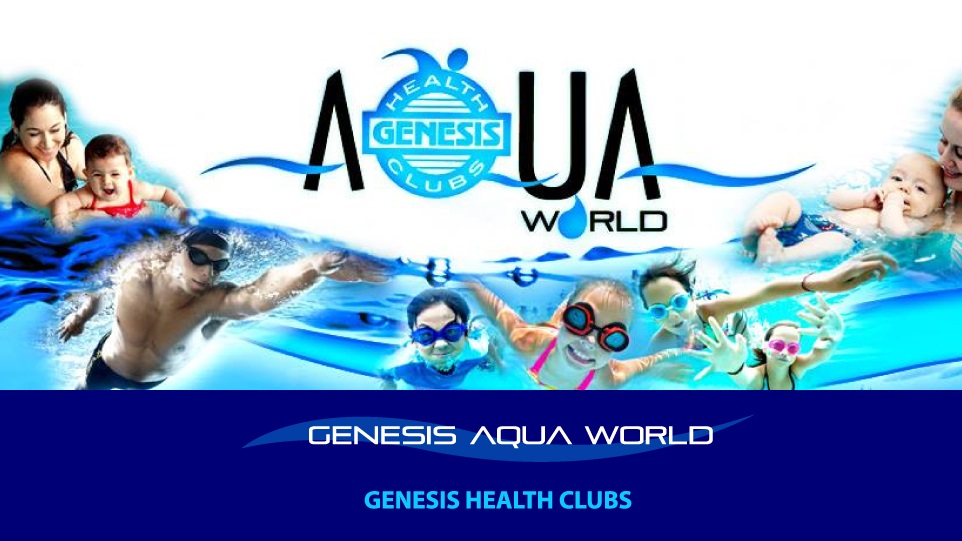 Sign up your little swimmers to get a head start on the 2016 pool season! Call (417) 883-6105 to reserve your child(ren)'s spot today!

Find us on Facebook: www.facebook.com/GenesisAquaWorld
Receive a FREE 30 min evaluation now included in your membership!
LESSON FEES
30-Minute Lessons
Individual
Single Session
Regular Price: $35
Member Price: $35
Total Cost: $35
4-Session Package
Regular Price: $35
Member Price: $32.50
Total Cost: $130
8-Session Package
Regular Price: $35
Member Price: $30
Total Cost: $240
12-Session Package
Regular Price: $35
Member Price: $27.50
Total Cost: $330
Small Group Lessons
Semi-Private Lessons
Single Session: $22 per lesson
4-Session Session: $21 per lesson
8-Session Session: $20 per lesson
12-Session Session: $18 per lesson
Group of 3
Single Lesson: $16 per lesson
4-Lessons: $15 per lesson
8-Lessons: $14.50 per lesson
12-Lessons: $13 per lesson
AQUATICS GROUP CLASSES
Pre-K
Tuesday/Thursday: 8:00am | 5:00pm


Beginner - Stroke Development

Tuesday/Thursday: 9:00am | 6:00pm
Junior Swim Team

Tuesday/Thursday: 4:00pm
All lessons are 30 minutes. 5 Student Max.
Sign up at the Front Desk