Holiday Hours for July 4th, 2021!
In recognition of Independence Day 2021, this club will follow the schedule below:
Saturday, July 3, 2021 - Club will close as scheduled.
Sunday, July 4, 2021 - Club will be closed all day.
Monday, July 5, 2021 - Club will reopen as scheduled.
Have a safe and happy July 4th!
Birthday Parties at Topeka Southwest
785-266-8000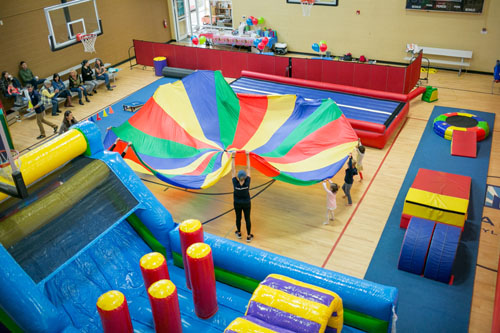 Inflatables Birthday Parties at Genesis Topeka Southwest
Looking to celebrate a birthday? Genesis' youth department team would love to host your group! We will facilitate a high energy, play-based experience complete with obstacles courses, games, inflatables, scooters, parachute activities and more!
Party Includes
1 hour of activity | 30 minutes for cake and presents
2 party hosts to facilitate the party experience
Evite invitation, balloons, and table cloths
Ages: 4-10
Days/Times
Saturday | 11 am & 2 pm
Sunday | 2 pm
Cost
$135 for Members
$155 for Non-Members
*Price Includes 15 party participants including the birthday child. Additional participants welcome at $10 per child
Download the Inflatables Birthday Party E-vite here
Testimonial
"I just wanted to say thank you so much for the amazing party! The staff did a phenomenal job engaging with the children and there were so many fun activities!! The hour and half was plenty, and it was so nice not to have to worry about cleaning up or decorating! The room was nice and big, and there was plenty of space. We will definitely be doing this again! I will now be considering the SW Genesis youth programs for summer camps and other day out events."

"We had an amazing time on Saturday. Everyone was exhausted and had a lot of fun. You (Bryan) and Emily did a great job and we were impressed by the team's ability to remember everyone's name and their child wrangling skills. We will definitely be recommending people to you for a fun, high energy party. We all had a very good time. Thanks to you and Emily again!"