Personal Trainer Benefits | Find Real Results!
Why workout with a Personal Trainer?
Working out with a personal trainer isn't just for star athletes or celebrities. Everyone can take advantage of the benefits personal trainers provide. Genesis personal training sessions are a valuable way to invest in your health and fitness for the future, and here are a few reasons why:
ACCOUNTABILITY AND MOTIVATION
It's often difficult to stay motivated when working out alone. Without the proper guidance, it's easy to hit a plateau in your training routine and start skipping workouts.
To prevent your workouts from becoming stagnant or unproductive, a Genesis personal trainer will be there to inspire you to continue toward achieving your fitness goals. Our trainers keep you going by developing a sensible workout plan that won't overwhelm you but will keep you challenged and encouraged.
If you're having difficulty maintaining your workout schedule, a Genesis personal trainer will help keep you accountable and driven to succeed. Skipping workouts is the easiest way to regress into unhealthy habits, so having a fitness instructor there by your side gives you the momentum you need to stick with it.
EXPERT ADVICE ON HEALTH, NUTRITION, AND FITNESS
With all of the new health information swirling around the media, popping up on the Internet, and passed from word of mouth, it isn't easy to sift through it all for the most accurate and up-to-date tidbits. That's where your personal trainer comes in.
Genesis trainers are fitness professionals, and as such, keep abreast of all the latest information regarding health and fitness as it pertains to our clients. We'll be able to tell you if the newest fads in diet and exercise are actually sound practice or perhaps potentially harmful.
Our personal trainers are all experienced, educated, and certified to give you the most accurate information to help you live a healthy lifestyle. Your trainer will help advise you on what items to include and exclude from your diet and can advise you on when it's time to seek medical advice if you have health concerns.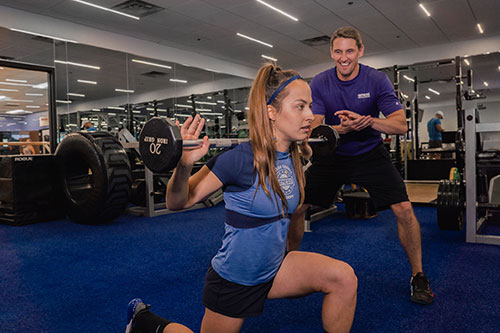 CONTINUED SUPPORT
First and foremost, your trainer cares about helping you succeed. Each session you spend with your trainer is the time when they can focus solely on you and your specific needs. Trainers provide constant feedback to help you understand the fitness process and how to achieve your fitness goals.
A trainer isn't there to judge you or make you feel bad. Instead, your Genesis trainer will provide you with encouragement and support every step of the way. If you feel self-conscious about exercising or feel the need to compare yourself to other gym members, your trainer will help you focus on your own goals and reach them. Reaching goals will build your confidence, provide you with a more positive outlook on your fitness and give you the motivation to continue.
PROPER TECHNIQUE AND INJURY PREVENTION
You could subscribe to all the fitness magazines and watch all the Internet videos on working out effectively. Still, nothing replaces having a dedicated fitness professional at your side giving you feedback on technique and form. Without proper technique and form, workout injuries can and will occur, but your Genesis trainer will be there to coach you on the correct ways to do each part of your workout and prevent you from hurting yourself.
Whether it's building better form on your run, correcting poor posture, or showing you the right way to do strength exercises, your trainer gives you the added confidence of knowing that you're working out safely and beneficially rather than potentially straining yourself or causing injury.
Your trainer will also help you prevent injury by increasing your core strength, flexibility, and balance. By focusing on exercises that personally benefit you based on your life and daily activities, your trainer will help you build a body less prone to future injuries.
If you have sustained an injury during your daily routine, your trainer will help you build strength and range of motion safely. Hence, you can recover faster and without aggravating the injury further.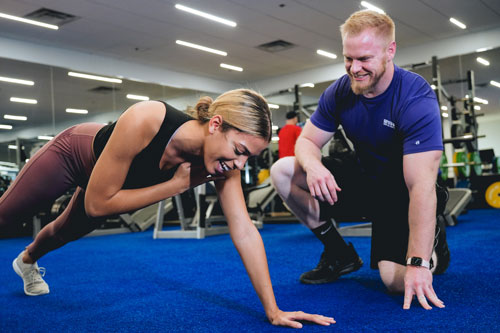 MAXIMIZING YOUR WORKOUT
Time is valuable, and most people can't afford to waste time doing workouts that aren't effective. With a Genesis personal trainer, you will burn more calories and build muscle faster than working out alone.
Your trainer will design a program that helps you workout most efficiently and get maximum results in the shortest amount of time. Working out with your personal trainer also teaches you the correct way to exercise to get great results when you do a workout independently.
As you complete your training sessions and work toward achieving your goals, your trainer will adjust your workout to keep challenging you and help you progress. They also help you overcome obstacles limiting your progress and answer your questions to help you understand how to get the most out of your workouts and diet plan.
CUSTOMIZED PROGRAM FOR THE BEST RESULTS
Health and fitness isn't a "one size fits all" approach. That's why your Genesis personal trainer will customize a training program specifically for your individual needs. Your trainer will sit down with you, find out your fitness goals, and then construct a plan to achieve those goals best.
A personalized plan from your trainer will give you better results than doing a general workout on your own. Each person's needs and goals are unique, whether losing weight, building muscle, or rehabbing from injury. By examining your current fitness level and diagnosing what you want to achieve through fitness, your trainer will make a specific plan of action to help you succeed.
If you're looking to get the most out of your time at the gym, contact your local Genesis Health Club and speak to one of our personal trainers about how we can help you get in shape, feel great and live healthier.
Learn more at your local Genesis Health Club: