Emporia Personal Training
Genesis Health Clubs' Emporia personal trainers are certified, experienced fitness specialists who design customized training programs for our members to help them succeed in attaining their unique fitness goals. We help you shed pounds, increase your energy levels and improve your overall speed, flexibility and balance with a fitness regimen planned specifically for your individual needs.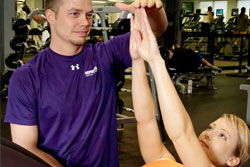 Genesis personal training provides you with the results you're looking for with our committed staff of trainers who teach and encourage you to make healthy decisions that enable you to look and feel your best.
By customizing a workout design based on you and your individual needs and providing assistance throughout the process, Emporia Genesis clubs offer more than just a great workout. We'll show you how to decrease stress, boost endurance and develop a new, healthier body.
Emporia Personal Trainer Mission
Our personal trainers' mission is to show you how to take charge of your own fitness. We focus on your individual fitness needs to give you the knowledge and ability to achieve success in reaching your fitness goals. We then help you apply our new healthy lifestyle plan that transforms you from the inside out. You will see a huge difference!
Emporia Personal Training Commitment
Genesis personal trainers are committed to assisting you while you steadily work toward your fitness goals. Genesis Fitness Advisors and Certified Personal Trainers want to give you the best training experience in Emporia.
We'll show you how to stick with your workouts, diet and how to monitor your development. Training sessions end by scheduling the next meeting so you'll never be on your own when it comes to your fitness. Get the benefits of our knowledge and expertise for the entire duration of your membership.
Our Fitness Objective
Our main objective at Genesis is for you to be in the best shape of your life. If you're looking for results, look no further than your local Emporia Genesis Health Club. No other Emporia health club gives you the same dedication, knowledge and support as that of our Genesis personal trainers.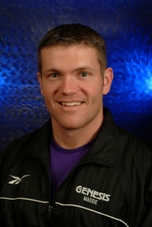 Yours in health,
Preston Petersen
CSCS, AHFS, FMS
Director of Personal Training Director
ppetersen@genesishealthclub.com
Emporia Location