North Overland Park Renovation
Genesis Health Clubs is thrilled to announce that our North Overland Park location is getting a multimillion-dollar renovation!
Beginning 5/23/23, this location will start construction on a luxury remodel.
The club is expected to remain open during the renovation, but certain areas may have limited hours or be inaccessible during construction for member safety. During the construction process, members at North Overland Park will receive temporary access to our newly remodeled Olathe Ridgeview location. Members also have access to 20 other Genesis locations in the Kansas City metro area.
Click the button below to find out more about the renovation!
Pilates at Genesis North Overland Park
The Pilates Studio | Genesis North Overland Park
Whatever your fitness level, Pilates training will transform your mind and body! Pilates is a mindful, precision-based, and core-centered approach to fitness and movement. You will feel stronger, move with more ease and be less prone to injury. Genesis Health Clubs has quality-trained instructors ready to guide you on your Pilates journey. All new clients receive a complimentary Pilates workout. Experience the Pilates difference today!
LEARN MORE BY CONTACTING PILATES DIRECTOR, LOU ATAGI
Email LAtagi@genesishealthclubs.com.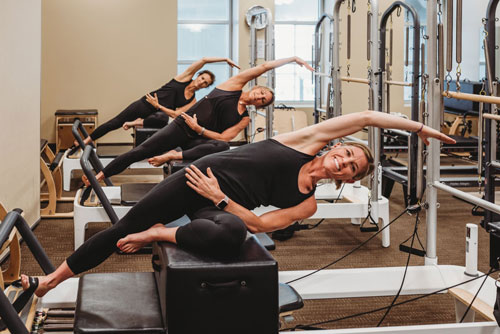 Private & Semi-Private Training
PRIVATE TRAINING
Experience personalized sessions designed with your individual goals in mind. Whether you are looking to improve athletic performance, a therapeutic approach to exercise for pain-free movement, or the classic Pilates results of a better core, better movement, better body, One-on-One sessions are the best way to maximize your results.
SEMI-PRIVATE TRAINING
Workout with a spouse, family member, or friend in 2-3 people sessions. Schedule directly with your instructor.
PILATES SMALL GROUP EQUIPMENT TRAINING
Our Small Group Equipment Classes are in groups of 4 – 8. Class size is limited to allow for individual attention when needed.
CLASS OPTIONS AND DESCRIPTIONS
INTRO TO STUDIO PILATES
ALL NEW students begin here. This session will introduce the basic principles of Pilates and how to set up and use your equipment. Also, you'll experience a Pilates workout on the equipment! Learn more about Pilates and how you can get involved in private or small group training in the Intro to Studio Pilates session.
Please contact your studio location for the "Intro to Studio Pilates" class schedule or to schedule your individual time.
REFORMER 1
This class is the next step to take after completing a minimum of two Intro to Reformer classes. Students will be challenged in a beginner format while working the whole body with an emphasis on improved balance and movement.
OPEN LEVEL REFORMER
This class is for those able to work independently on the Reformer. Students will progress to the next level by increasing the number of exercises done in a class and the level and complexity of the exercises.
ADVANCE REFORMER
This advanced class is for those experienced in the Reformer and have built the strength and confidence to move through high-level reformer exercises at a flowing pace.
Instructor approval required
MIXEDAPPARATUS
Using a combination of apparatus offers unique ways to increase the intensity of traditional conditioning exercises while improving overall coordination and enhancing functional movement patterns. You will experience the value of the similarities and the differences between the pieces of apparatus.
Equipment used in this class is dependent upon the studio location.
CARDIO TRAMP/JUMP BOARD
Boost your stamina and energy levels in this intermediate-level workout! The Jump Board and Cardio Tramp provide the ability to "jump" while supine (lying on your back) and focus on plyometric training without the impact the whole body's weight may have on the joints and spine when standing. This workout presents an interval/cardiovascular workout that incorporates strength, flexibility, and heart rate training.
Equipment used in this class is dependent upon the studio location.
PILATES BENEFITS THE WHOLE BODY | PILATES IMPROVES YOUR QUALITY OF LIFE
When the WHOLE BODY is working together, when we are strong on the INSIDE and when we train our BODY to move correctly, we LOOK better, FEEL better, MOVE better, and have more ENERGY to PERFORM better the basic daily tasks of life, as well as the demanding exercises and activities. Learn more about the health benefits of Pilates here.
What's the difference between Yoga and Pilates? Find out the differences here!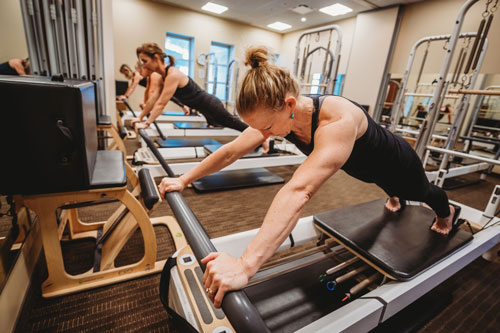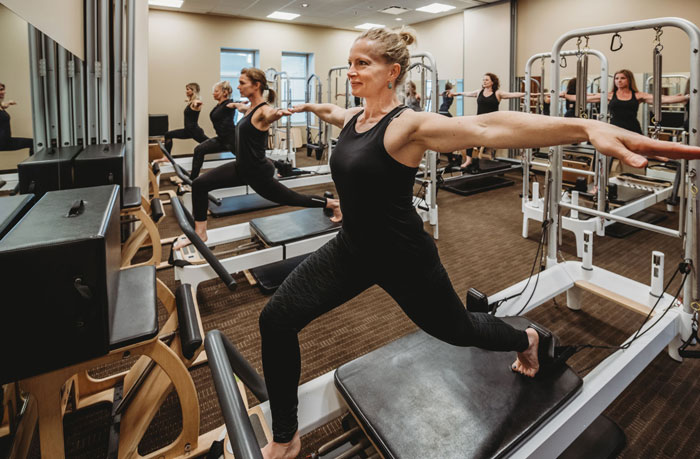 For more information, please contact Pilates Director Lou Atagi at LAtagi@genesishealthclubs.com.