Memorial Day Hours 2023
In observance of the holiday, Memorial Day hours will be as follows for Monday, May 29th:
Open 8 AM - 2 PM
Kids Club will be open from 8:30 AM - 2 PM.
The club will reopen with normal hours on Tuesday, May 30th.
Orlando Rental Spaces
Small and Medium Conference Rooms Available for Rent!
Genesis Orlando Sportsplex offers many spaces for rent within our facility. These spaces include everything from event rentals to meeting rooms to private practice gyms.
These meeting planning facilities and amenities are all in a unique, affordable, and fun location. Our event team expertly creates our spaces to suit your specific needs. Enjoy your meeting made personal as our friendly and capable staff creates an atmosphere for professional success.
Whether you are just visiting Orlando for an event or tournament, or a resident looking for a meeting venue, the Genesis Orlando Sportsplex can help!
Meeting & Event Rentals Include:
Setup and breakdown
Complementary parking
Access to club wifi
TV display in meeting rooms
Podium in Backcourt Conference Room
Spaces for Rent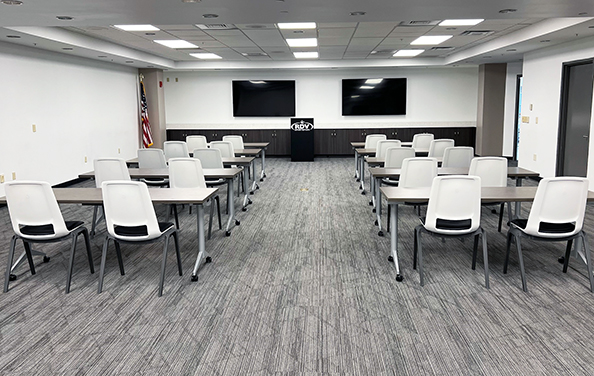 Backcourt
1,500 sq ft
$95 = 1 hour
$340 = Up to 4 hours
$600 = Up to 10 hours
Customizable seating for up to 80 people
Podium available




Pressbox
$50 per hour, up to 5 hours
$250 per day
TV with an aver sound bar and camera
Fixed seating for up to 8 people





Will Call
$35 per hour, up to 5 hours
$175 per day
TV monitor with HDMI
Fixed seating for up to 4 people





MVP Gym
11,000 sq ft
Ideal for pick-up basketball/volleyball games, corporate retreats, birthday parties, team building, and more!
Private entrance
Please contact Tiffany Perez for pricing - tiffany.perez@genesishealthclubs.com





Multi-sports Gym
7,000 sq ft
Ideal for basketball or volleyball practices, small groups, corporate retreats, birthday parties, team building activities, and more!
Private entrance
Please contact Tiffany Perez for pricing - tiffany.perez@genesishealthclubs.com




Additional
Outdoor - Pickleball, Tennis
Indoor - Squash, Racquetball
Group Fitness Studios