Aquatics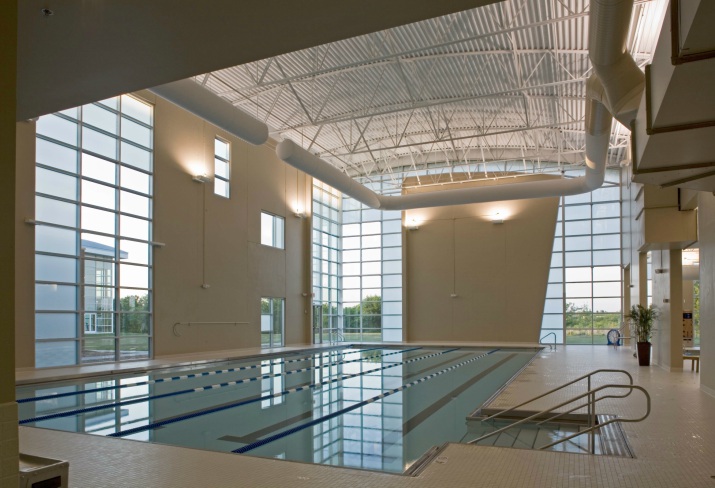 Olathe Ridgeview offers year-round swim lessons! Ridgeview has two indoor pools and one outdoor pool. The 25-yard indoor lap pool is always set at a nice 84 degrees and the warm water indoor pool is set at 89 degrees. We offer many Group Fitness Aquatics classes; see the Group Fitness schedule for class times. Members are always welcome to swim laps at any time there is a lane available, first come first serve.
The outdoor pool is open during normal business hours starting on Memorial Day and closes when the temperature drops. The pool is available for any age to use when classes are not in session.
There is food and beverage service in the area and you are able to order food from the Cafe and have it brought down to you. The zero entrance pool is perfect for kids of all ages. There is no lifeguard on duty, so we please ask that you take caution with your kids in the pool and keep a close eye on them.
Olathe Ridgeview also has a hot tub available that's set at 104 degrees. The hot tub is available to members at any time.
For more information contact the Aquatics Coordinator, Janis Edmon at jedmon@genesishealthclubs.com.
Our mission:
Provide specialized training tailored to help each individual find their success in the water
Equip swimmers with the ability to react in an aquatic emergency, to not only sustain their own life, but to also aid those in need
Bring Fun on the deck and into the water
Private Swimming Lessons:
Genesis offers private swimming lessons year-round in their heated pools, taught by highly trained instructors. The programming of these lessons is set to align with your schedule.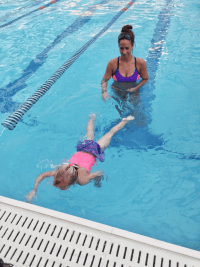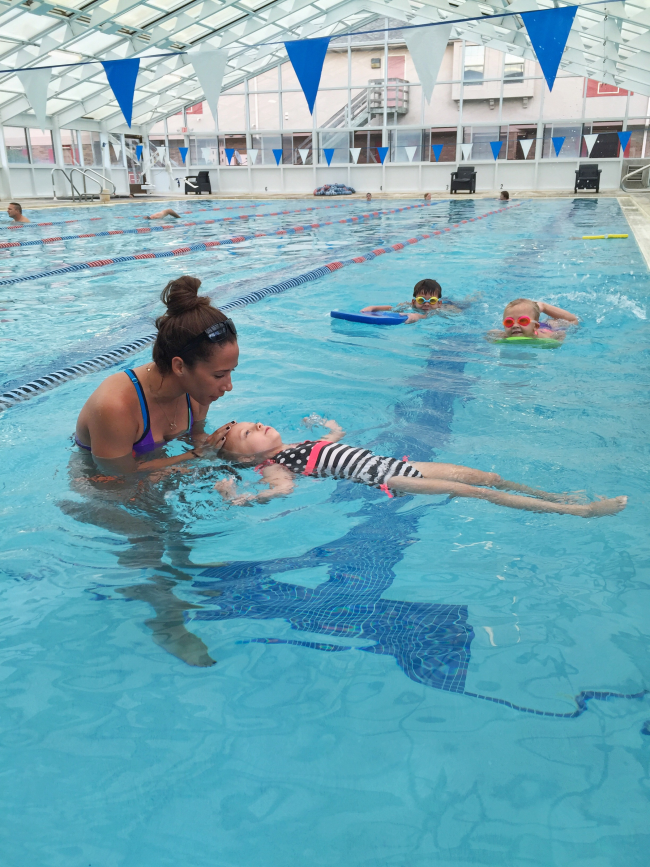 Contact Janis Edmon at jedmon@genesishealthclubs.com to get sign up today!
Group Lessons
Group Lessons are held the first four Saturdays of every month.
Lessons include:
PARENT/CHILD SWIMMING CLASS AT 1O AM
LEVEL I SWIMMING CLASS AT 10:45 AM
LEVEL II SWIMMING CLASS AT 11:30 AM
PARENT-CHILD (6 MO - 4 YRS)
Must be at least 6 months old and accompanied by a parent.
Class will be limited to six swimmers
To pass Parent and Child they will accomplish the following:
• Learn to ask permission to enter the water
• Expect adult supervision in the pool
• Learn to enter and exit the water in a safe manner
• Explore submerging
• Glide on front & back with assistance
• Change body position in the water
LEVEL ONE
Classes will be limited to five
Must be 4 years old and up, be comfortable in the water and able to do the prone float.
TO PASS THEY WILL ACCOMPLISH:
• Learn to push off wall in a streamline prone float
• Use the Flutter kick in a streamline prone position
• Incorporate the arms in coordination with the flutter kick
• Float on back & front
• Incorporate the arms with legs on back
• Feel comfortable in water
LEVEL TWO
Classes will be limited to five
Must be 4 years old and up, be able to complete the passing skills of the Level One course.
TO PASS THEY WILL ACCOMPLISH:
• Learn to breathe while swimming the front crawl (freestyle)
• Swim length of the pool in front crawl
• Learn the Backstroke, alternating arms and flutter kick
• Learning the beginning of a Breaststroke
These lessons are (4) 30-minute sessions a month
-PARENT/CHILD Prices: $50/member; $65/nonmember
-LEVEL I & LEVEL II Prices: $60/member; $75/nonmember
Junior Swim:
Junior Swim is our Pre-compete program for the more experienced junior swimmers, ages 6 - 17 years old. The goal is to encourage children who want to learn competitive swimming by helping them learn to improve their strokes, gain endurance, and train in a more competitive environment. Come try out for our Pre-compete program on Monday & Wednesdays from 4:30-5:30 or 5:30-6:30 pm! To be accepted into the program the swimmers must swim a lap of the pool in Front Crawl, Backstroke, and Breaststroke. Try your first practice for free! Four lanes are used during this time, please plan accordingly if you are coming to swim laps.
Master Swim:
Master Swim is for athletes of all abilities who want to improve their overall fitness, improve technique, or train for swimming competitions. If you want to get fit, become a better swimmer, stay motivated & meet new friends, Master Swim is the place to be! If you are under the age of 18 years, you must qualify to join Master Swim. Come try our Master Swim practice on Tuesdays from 6pm-7pm and Saturdays from 9am-10am! Your first practice with us is free! Five lanes are used during this time, please plan accordingly if you are coming to swim laps.
Water Exercise:
We offer 14 Water Exercise classes each week, which include four different varieties. Please see the schedule for class times. Our warm water pool is reserved for class participants only during class times, but is available for the remainder of the day for free swimming.