Blog
Thursday, December 10 2015 12:31 PM
Categorized In
Rock Road
Article featured in Club Solutions Magazine December 2015 Issue.
To read the full issue please click here: http://clubsolutionsmagazine.com/2015/12/full-speed-ahead/
Full Speed Ahead
By: Rachel Zabonick
The fastest train in the world is China's CRH380A, which propels its passengers at a cruise speed of 217 miles per hour. While the train carries its 480 travelers, the countryside becomes a blur. Houses and fields are nondescript as town after town falls away into the distance.
Rodney Steven II, the owner of Genesis Health Clubs, can relate. Sometimes, he too feels as if he's charging full-speed ahead, making it difficult to focus on the here and now. "Time goes by so fast," he said. "I feel like my job right now is to do the best I can to slow down the years, slow down the months and slow down each day. It's been something I've been preaching to myself and my teams."
The Here and Now
Anyone may feel a need to focus on the here and now after doubling the size of their company in just a few short years. In 2011, Genesis Health Clubs boasted 10 locations within a 300-mile radius of Wichita, Kansas. Through a number of key acquisitions and build-outs, it has since grown to 18 clubs in Kansas and three in Missouri, bringing the total to 21 locations.
According to Steven, growth was planned, just not necessarily this fast. "There were a lot of builds that I had in the works that just kind of happened right in a row," he explained. "Sometimes you work in acquisition for years. There were two or three acquisitions I had been working on, and they all just came to a head at the same time. I think there was an eight-month period where we had eight new clubs. It all just happened pop, pop, pop."
Staying Focused
Growing at that rate, even the most level-headed of executives may feel as if their head was spinning. To keep focused when his business is so busy, Steven draws on lessons learned during his childhood.
"I feel like I'm really a product of my environment," explained Steven. "I feel very blessed to be raised by great parents. My dad worked extremely hard and took us to work, showing us what true work ethic really was, and my mother took the very best care of us. Between them, [it shows] that hard work and family values pay off."
For Steven, the pay-off has been leading the charge to bring health and fitness to his members, a cause he is also personally passionate about. "I workout every morning at 6 a.m. in one of the clubs," he said. "Going a day without exercise would really disturb me. We're trying to share that feeling among Americans and members of our communities every day."
Jose Riveros, the director of sales for Genesis Health Clubs, joined the company in 2013, and as a result has been witness to much of the company's fast growth. He believes Genesis Health Clubs couldn't ask for a better leader than Steven to guide it as it continues to charge full speed ahead.
"I've worked with great companies and had some great leaders," said Riveros. "But what Rodney brings to the company is that he sets the pace. He empowers his teams, yet he has a pulse on everything."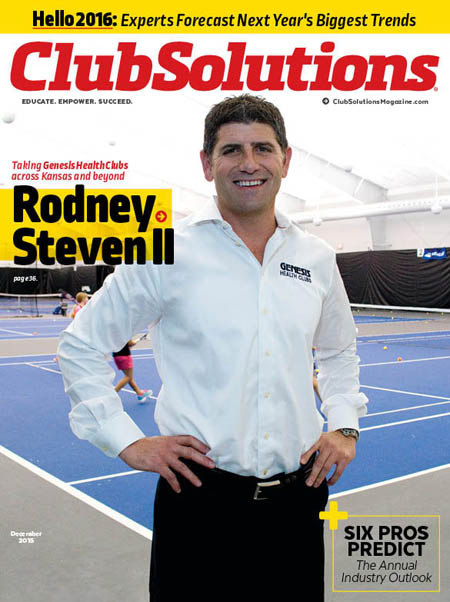 If you are ready to partner with Genesis Health Clubs, get a 7-day free pass today! With advanced equipment, knowledgable instructors, comprehensive group fitness classes, and experienced personal trainers, Genesis has everything you need to meet your fitness goals! Contact your local Genesis Health Clubs location to get started today!
Wednesday, May 6 2015 4:27 PM
Categorized In
Rock Road
Cover Girl Bethany
Check out our own Bethany Tenpenny, instructor and personal trainer, gracing the cover of Splurge this month! We think she's the very picture of health and athleticism, and we know you'll agree once you take her highly-motivating classes.
Monday, 5:45 p.m. Blast
Tuesday, 9 a.m. Blast
Wednesday, 9 a.m. Power & 10 a.m. Core30
Friday, 9 a.m. Power
Memorial Day at Rock Road
Memorial Day is Monday, May 25 and the gym will have holiday hours, 7 a.m.-7 p.m. We're offering a special class schedule, PLUS we'll open the pool with a BANG at our annual Memorial Day Party & BBQ.
Following is our class schedule for the day:
8:00 a.m. Group Ride 90 – Cherisse & Jacqui
8:30 a.m. Yoga Flow – Galina
8:30 a.m. Power Splash – Leah
9:00 a.m. Group Power – Zoe
9:30 a.m. Power Yoga – Aisha
9:30 a.m. Aqua FitLife – Leah
10:00 a.m. Group Blast – Bethany
10:30 a.m. Gentle Yoga – Galina
Noon: Aqua Groove – Virginia
At 1, all members are invited to party the day away at the outdoor pool. We'll serve food, drinks and tons of fun, starting at 1 p.m.
Swim Team Packets are Available!
Speaking of the pool, it's time to talk swim team and lessons! We have a swim program for kids of all ages, so pick up your swim team packets at the front desk and, while you're there, learn more about swim lessons too. Our Aquatics Coordinator Abbey Steinbrink is available to answer your questions at asteinbrink@genesishealthclubs.com.
The 80s are Back in Group Fitness
We've been in a heated competition at Rock Road. Our 30 instructors – from aquatics, mind/body and group fitness – competed in a fierce-but-friendly competition to increase the number of class participants. And guess what?! It worked! A lucky team of five will be crowned winners for the highest increase. As for the other 25…well, they'll be the ones in 80s attire teaching class on a very special day in May. Come to your favorite classes to meet the "losers" and congratulate the winners.
Tuesday, April 7 2015 2:15 PM
Categorized In
Rock Road
Welcome Aisha and Cherisse! Our Rock Road club continues to build the best instructor group in the land and we're thrilled to welcome Aisha (pronounced "Isha") and Cherisse. Both just completed our Ride/R30 training. Aisha Thomas is a wildly versatile instructor, with Zumba and Yoga certifications. She also teaches kick-boxing, high-intensity cardio and (see below) will allow us to expand our offerings. Cherisse Taylor is a long-time member and Group Fitness participant, and she's already team teaching Ride and R30. We expect Cherisse will be on the schedule in no time!
ATC is BACK!
This month, we're adding Athletic Training & Conditioning (ATC) back to the schedule, led by Aisha. ATC is a bootcamp-style class, which will incorporate simple strength training, agility, cardio…and will leave you sweating! We'll offer ATC at the following times: Tues., 10 a.m. and Thurs., 9 a.m. (Thursday's class will replace Blast.)
New Class Times: Power Yoga
Aisha will also lead two new Power Yoga classes, Mondays and Fridays 9:30 a.m. starting April 6. Power Yoga is a more advanced Vinyasa Flow class, and serious students will enjoy this challenging series of connected poses and strong core work.
Aquatics Coordinator Abbey
Congratulations to Abbey Steinbrink, our new Aquatics Coordinator here at Rock Rd.! Abbey will oversee the indoor and outdoor aquatics programs, including classes, instructors, swim team, lessons, lifeguards, etc. She'll maintain her responsibilities as EC Group Fitness Coordinator and were lucky to still have her as a Ride, Blast and Power instructor.
Music Moves You Campaign
Join us all month to see how Music Moves You! We all work harder with music on our sides, and the new releases of Ride, R30, Power, Centergy and Blast will prove it! Join our best instructors for these release dates and times:
Ride: Zoe & Taylor
Centergy: Beth, Mitzi, Dani
R30: Zoe and Abbey
Power: Rachel, Tia and Dava
Blast: Bethany, Tia and Abbey
Tuesday, March 17 2015 10:12 AM
Categorized In
Rock Road
Group Fitness Triathlon
Rock Road hosted our first ever Group Fitness "Triathlon," and members packed the rooms for 25 minutes each of Ride/Power/Blast. In fact, it was such a hit that we'll plan one in the coming months, so stay tuned.

Instructor and Class Changes
We'll make only minor changes to our class schedule this in March; Mitzi will teach our 4:30 p.m. Wednesday Group Power class and Virginia will join our Rock Rd. team as Thursday night's (6:45 p.m.) Zumba instructor.

Also, Thursday morning's 8:30 class will now be Mat Pilates, rather than Core Yoga and Galina will still instruct. Which brings us to…

Instructor of the Month: Galina Faulconer
This month, meet Yoga and Pilates Instructor Galina Faulconer. Galina was born in Moscow, Russia and she spent her early childhood in the capital of Mongolia, Ulaanbaatar. Her grade school and middle school years were spent in Helsinki, Finland, then she returned to Moscow to finish high school and attend The University of Moscow, where she earned a Bachelor's Degree in International Economics.

Galina came to the U.S. in 2002 and received her citizenship in 2007. During that time, she earned her Yoga certifications and began teaching at Genesis in 2006. She's currently working toward her Pilates certification. Galina's Wichita family includes the love of her life, Marc, her two daughters and a dog and cat. In her free time, she enjoys oil painting, specifically Russian landscapes, flowers and still life.

She said, "I love Yoga and I love to teach Yoga Flow, moving from one pose to another. I like to motivate people to come to yoga class and try it and discover all the benefits. They discover that yoga improves their balance, their health, refines their mind and helps them become stronger both mentally and physically."
Tuesday, February 10 2015 1:39 PM
Categorized In
Rock Road
New and Unique Classes in February
We're making a few exciting changes to our group fitness schedule this month. For early birds, we're now offering 5:15 a.m. R30 classes (that's a 30-minute cycling class, destined to start your day off well) on Tuesdays and Thursdays.
Also, we're adding an inspiring new class combo: Spin & Yoga, Saturdays at 10:30 a.m. This revolutionary duo will begin with 35 minutes on the bikes, followed by 25 minutes of Power Yoga, focusing on the muscles most commonly used in cycling. Join C.J. in the cycling studio this and every Saturday!
Valentine's Yoga
Grab someone you love and bring them (for free if it's a non-member!) to Genesis on Sat., Feb. 14 for a special Yoga class, designed for partner work! Bring a spouse, friend, neighbor…anyone you "love" for this special Valentine's Day yoga in Studio C.
Power, Ride, R30, Blast and Centergy – All New!
Have you been to your favorite "Group" classes in the past month? If not, it'll be all new to you, since we spent January launching new music and choreography for all five programs. The theme is "It's Better in Groups," so we encourage you to come by and see why! (Reason #515: it makes you work harder but smile more.)
Instructor of the Month: Devin Roberts
This month, we highlight Devin Roberts, an instructor and personal trainer. His Urban Groove classes have grown tremendously in the year since he added "fitness instructor" to his many talents. He began dancing in college and eventually minored in Dance and was a Teacher Assistant for WSU's Hip-Hop dance class.
He holds a master's degree in Exercise Science from Wichita State, which is also where he earned his bachelor's in Sports Management. While in college, Devin was a member of the WSU Rowing team and also a WSU Cheerleader. Today, Devin loves working out, reading, competing in obstacle course races, rock climbing, acrobatics, and Shockers' basketball.

Devin believes, "Fitness classes are a wonderful place to meet people who have similar goals and needs. You will never be bored with the variety of exercise choices offered in group settings. From strength training and step aerobics to boot camps and indoor cycling to my favorite Zumba/Urban Groove, your fitness instructor will challenge and improve your body."
Thursday, January 8 2015 1:17 PM
Categorized In
Rock Road
Happy New Year from Rock Road! We look forward to seeing new (and renewed!) members in our Group Fitness classes in 2015. We offer Group Fitness and Mind/Body classes for all levels, including Yoga Basics & Gentle Yoga, R30 (a 30-minute spin class) and FitLife, strength training, Zumba, aquatics classes and much more. If you're new, please come introduce yourself to the instructor and he/she will help get you set up for class. See you in the studios!
January Schedule Changes at Rock Road
We're making a few changes to our schedule, starting in January
Thursday's noon Men's Yoga class is now open to women and will be Hot Yoga with Beth.
Also, we're no longer offering Monday night 6:45 p.m. Zumba, but our friends at East Central still offer that very class at that very time.
Try G-Cycle & Sculpt!
We're thrilled to offer variety in our Ride room, so in addition to our daily selection of Ride and R30 classes, we now offer G-Cycle & Sculpt, a 60-minute cardio and strength training class. We'll provide the equipment; just join Anne in Studio B on Tuesdays and Thursdays at 9:30 a.m.
Instructor of the Month: Danielle Wildeman
This month, we meet Danielle (Dani), a 22-year group fitness pro. She currently teaches Group Power and Group Centergy, although over her career with Genesis, she's taught nearly every format imaginable!
Dani grew up in Concordia, Kansas, went to K-State, which she still loyally follows, and now works for J.P. Weigand and Sons as a real estate agent. She's married to Darrin and together they enjoy spending time with their yellow male labs, Austin and Reagan. Dani says, "Members should try group fitness to keep them motivated, visit with others between working hard, and obtaining set goals with support from a group."
Wednesday, January 7 2015 6:20 PM
Categorized In
Pilates
The Pilates Studio at Genesis Health Clubs wishes you a very Happy New Year! Let us help you reach your optimal level of health and fitness in 2015! We provide the best of Pilates training for those at any age or level of fitness.

A New Year's gift for everyone
Purchase 3 and get 1 FREE "Stretch and Stability" session for only $195.00!
This session includes a whole body assisted stretch which is relaxing and lasts about 30 minutes. We'll then move on to core stability work which focuses on breathing and establishing your core connection using a variety of exercises and equipment.
Having a clear understanding of "how" to engage your core will improve your strength and balance as well as how you feel! This is a great opportunity for everyone!
Must be purchased by January 16, 2015.
Sign up NOW for our Progressive Mat Class
This Mat class will cover level 1, 2, and 3 exercises. The class will meet every Monday at 10:00 am from January 12th thru March 2nd.
There is NO fee for the class but advance sign up is required. No drop-ins are allowed. Students will be most successful attending all 8 classes.
This will be a wonderful way to learn the entire Mat series and get a
kick start to shaping up in 2015. All Levels welcome!
For more information or to register please contact Kelli Harsh at kharsh@genesishealthclubs.com, OR 316-634-3120
Join Cardio Barre!
This class is located on the 3rd floor of Rock Rd Genesis Health Club
If you're ready to get your body in TIP TONE shape then join Cardio Barre
The Cardio Barre Workout will work your legs and booty like crazy as well as get your heart rate up. There is also time for upper body and abdominal work.
Join this whole body workout on Mondays at 5:45 pm, Thursdays at 8:30 am
and Saturdays at 9:00 am. Based on attendance more classes may be added soon!


Group Pilates Equipment Classes
We have openings in some of our Group Reformer Classes and Group Circuit Classes. These workouts use resistance loaded machines providing another great option for getting and staying in shape. The small group setting is fun and energizing!
NEW Students must meet with a Pilates Trainer privately before joining a class.
Contact us to find out how you can get started!
More about our studio…….
The Pilates Studio at GHC offers Group Barre, Foam Roller and Mat classes as well as small Group Reformer and Equipment Circuit Training.
We also offer Private and Semi-Private Training. Contact me today to set up your complimentary session so that you can learn more about how Pilates exercise can help you and improve the way you look and feel in 2015!

To sign up for classes and/or sessions with a trainer please contact the studio today!
Pilates Director, Kelli Harsh, 316-634-3120 or kharsh@genesishealthclubs.com
Thursday, November 6 2014 12:50 PM
Categorized In
Pilates
Pilates, an Exercise in Balance
We want to see you in the studio! Feel better, move better and look better.
November special for new students; Try Pilates with one of our certified Pilates Instructors in November and receive one free pass to a Group Reformer class. Contact Kelli Harsh to set up your appointment.
Would you like to become part of our Pilates Instructor Team?
Our Comprehensive Pilates Teacher Training program begins January 2015. The Comprehensive Pilates Teaching Training program is our most extensive program which covers beginner, intermediate and advanced exercises utilizing the Pilates apparatus; Mat, Reformer, Cadillac, Chair, Barrels, Ped-O-Pull and Circle. The program also includes training modifications for those with special issues such as back problems, knee, shoulder etc.

Pilates has grown in popularity which has created a demand for educated Pilates instructors. Our training course requires 450 hours of lecture, observation, and self practice as well as a hands on paid apprenticeship in our studio. Those that complete the program will qualify to sit for the Pilates Method Alliance Certification Exam. Contact us to receive a complete outline of the CPTT Program.

For more information or to register please contact Kelli Harsh at kharsh@genesishealthclubs.com, OR 316-634-3120
November Announcements
The Wednesday 6:45 pm Cardio Barre class is cancelled during the months of November and December. We look forward to adding another evening class in January. Please continue attending our Cardio Barre classes scheduled on Mondays at 5:45 pm, Thursdays at 8:30 am, and Saturdays at 9:00 am.

We have openings in some of our Group Reformer classes. Group Reformer workouts are a great way to help stay in shape during the holiday season!
Contact us to sign up!

The Pilates Studio at GHC offers Group Barre, Foam Roller and Mat classes as well as small Group Reformer and Equipment Circuit Training.
We also offer Private and Semi-Private Training. Contact me today to set up your complimentary session so that you can learn more about how Pilates exercise can help you and improve the way you look and feel!