Discover the results you can achieve from a Barre workout class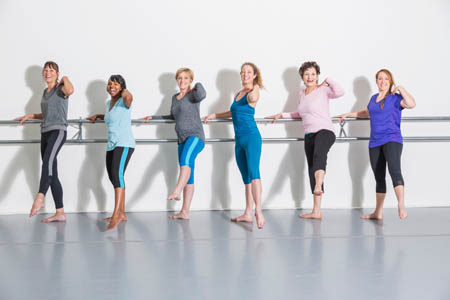 The Barre workout originally began as a warm-up exercise routine for ballet dancers has been brought to Genesis Health Clubs as group fitness classes. If you are unfamiliar with the Barre method, it is full-body workout that uses a bar or handrail (hence the name: "Barre") for support to hold your body still while contracting specific sets of muscles to increase strength. The whole-body Barre workout, is a high intensity class that combines ballet techniques with Pilates movements, and is choreographed with music for a fun and upbeat exerrcise experience. Our Barre workout classes introduce light weight exercises with Pilates mats to help you maximize your physical fitness and over all well-being.
Ready to try a Barre workout class?
Please visit our Barre workout class schedule page to find the Barre classes nearest to you.
What results can you expect from a Barre workout class?
At Genesis Health Clubs, our Barre workout classes combine cardio and strength training to achieve fast fat burning & muscle building at the same time in an enjoyable atmosphere.
Most Barre workouts result in Weight loss by targeting the largest muscle groups in the body to burn more calories.
The small movements at high reps within the Barre method forces muscles to tone and creates Muscle definition.
The strong attention to the exercise form, strengthens your body's core, improves balances and leads to improved posture.
As you know a good workout is a natural way to reduced stress and concentrating on movements during the Barre fitness class improves the mind-body connection.
With a Barre method exercise, increased flexibility can be achieved through range of motion and focused stretching.
Do I have to be a ballet dancer to try a Barre workout?
The answer is "No". Any member can participate in one of our Barre workout classes, especially if you are are looking to improve your flexibility and core strength. The low-impact Barre workouts are perfect for men and women of all fitness levels and experience.
Ready to try a Barre workout class?
You bring your energy, and we'll provide the rest! Wear fitness attire that allows plenty of flexibility. Barre workouts are performed barefoot, so don't sweat your sneakers. Like all of our Group Exercise classes, Barre is free with your Genesis membership! Just drop in, sign-up not required. Genesis offers Barre workout classes at a variety of our fitness center locations, please visit our Barre workout class schedule page to find a Barre class near you.